Media, Inequality and Change Center Receives Lenfest Institute Grant
The grant will allow MIC to facilitate dialogue between Philadelphia's leading journalists and public advocates.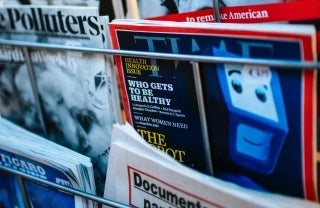 The Media, Inequality and Change (MIC) Center at the University of Pennsylvania's Annenberg School for Communication and Rutgers University's School of Communication and Information has received a Philadelphia News Ecosystem Collaboration Grant from the Lenfest Institute for Journalism.
The Institute announced yesterday six projects for its inaugural Philadelphia Ecosystem Collaboration Grants. The grant program collaboration is designed to encourage partnership on a broad array of journalism projects serving the public interest of the diverse communities of the greater Philadelphia region. This inaugural grant-making effort has been launched in the belief that public-service journalism and civic information can and should be highly inclusive of multiple voices, disciplines, communities, institutions, and individuals.
Together with its partner groups, Media Mobilizing Project and The Philadelphia Inquirer Opinion Section, MIC will use its grant to create the Community Journalist Exchange, a series of dialogues between a diverse group of Philadelphia's leading journalists and Philadelphia's leading public advocates from across the political spectrum, in the run-up to the municipal elections on May 21.
Given that local elections are a moment when people from across the city engage with the most pressing local issues, MIC and its partners will bring together community activists with journalists who cover these beats for Philadelphia's media. Issues they hope to explore include public education, housing, poverty/work, criminal justice, climate change and environmental justice, and health and harm reduction.
"The Lenfest Institute grant allows MIC to further its commitment to community engagement and policy intervention," says MIC co-director Todd Wolfson, Associate Professor of Journalism and Media Studies at Rutgers University.
The six projects chosen aim to build partnerships between major Philadelphia-area universities, larger media organizations, smaller community media, and an array of civic organizations. 
In addition to MIC, the other awarded projects and organizations are:
The University of Pennsylvania Center for Public Health Initiatives (CPHI) and its Healthy Library Initiative, together with The Philadelphia Inquirer, Philadelphia Department of Public Health, and the Free Library of Philadelphia: To raise public awareness and expand journalism and information sharing around a grassroots effort to equip more Philadelphians with naloxone, a drug that counters the effect of opioid overdoses, that will track people trained, encourage naloxone-carrying "commitment pledges," and tell stories of lives saved.
The Reentry Think Tank, together with Philadelphia Reentry Coalition, Village of Arts and Humanities, People's Paper Co-op, Defender Association of Philadelphia, Community Legal Services, PhillyCAM, and Resolve Philadelphia.
Free Press, together with Germantown Info Hub, Kensington Voice, The People's Education Center, Temple University, and WHYY: To train and mentor community members to work with residents, develop stories with journalists, and boost information that helps counter stigmatized coverage.
Mighty Writers, together with Camden, NJ: A Spirit Invincible, WHYY, the Center for Environmental Transformation in Camden, and the Rutgers Camden Office of Civic Engagement: To support a daily after-school workshop for Camden teens at a student newsroom focusing on issues relating to life in the Waterfront South neighborhood of Camden.
Untitled Folder LLC, together with Neo4j, Technically Media, Linode, and Code For Philly: To create an open-source web application project designed to empower citizens, journalists, data scientists, coders, and creatives with the ability to harness open data for journalism, public information, and civic good.
About MIC
The Media, Inequality and Change Center (MIC) is a collaboration between the University of Pennsylvania's Annenberg School and Rutgers University's School of Communication and Information. The Center explores the intersections between media, democracy, technology, policy, and social justice. MIC produces engaged research and analysis while collaborating with community leaders to help support activist initiatives and policy interventions. The Center's objective is to develop a local-to-national strategy that focuses on communication issues important to local communities and social movements in the region, while also addressing how these local issues intersect with national and international policy challenges.