Natacha Yazbeck Receives Leeway Foundation Transformation Award
The award includes a $15,000 grant.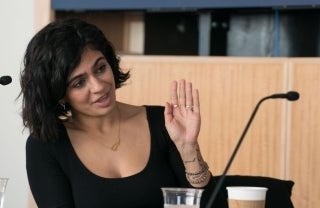 The Leeway Foundation announced last week that Annenberg postdoctoral fellow and alum Natacha Yazbeck (Ph.D. '20) has received a Leeway Transformation Award. Yazbeck is one of 11 artists and cultural producers in the Greater Philadelphia region to receive the award, which recognizes each individual's commitment to their communities and art for social change.
"Growing up, there were few, if any, Arab voices which spoke to our experiences as immigrants, refugees, and their children in the United States," Yazbeck says. "My work aims to produce documentation that bears witness to the roots of our growing community, primarily in Philadelphia and New Jersey."
Located in Philadelphia, the Leeway Foundation supports women, trans, and/or gender nonconforming artists and cultural producers working in communities at the intersection of art, culture, and social change. The foundation's work promotes artistic expression that amplifies the voices of those on the margins, promotes sustainable and healthy communities, and works in the service of movements for economic and social justice.
Spanning an array of artistic disciplines and social change intents, the Transformation Award recipients are focused on issues like upholding cultural legacies, developing artistic responses to systemic racism, and raising questions of sustainability in the built and natural environment. Selected by a national panel, the recipients are a reminder of the importance of arts and culture as a tool for community building and a conduit for change.
Yazbeck received the award for her work in reviving traditional non-linear modes of storytelling as a means of cultural preservation and immigrant justice. Her current project is an oral history of Arab immigrant experiences, told by women community elders.