At the National Liberty Museum, People's Browsing History Is on Display Through Art
Recent Ph.D. Roopa Vasudevan created a browser extension that transforms a person's portrait based on the websites they visited.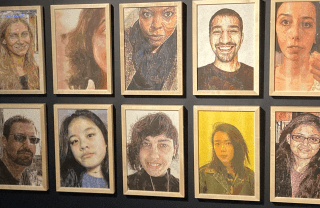 Technology is woven so seamlessly into modern life that we rarely stop to think about it. We know that if we get lost, our phone's GPS will give us directions. If we text someone a question, they can text back with the answer immediately. Want to know what's going on literally anywhere in the world? Just take your phone out of your pocket. That often unexamined nexus between technology and human behavior is what particularly intrigues artist, educator, and recent Annenberg School for Communication Ph.D., Roopa Vasudevan.
Earlier this month, one of Vasudevan's ongoing art projects, dataDouble, went on display at the National Liberty Museum's newest exhibition, "Data Nation: Democracy in the Age of AI."
dataDouble is an interactive work that explores humanity's connection to data and how our relationships with machines affect our behavior and sense of self.
Vasudevan conceived of the project during her first semester at Annenberg back in 2018, in a class taught by Wendy Hui Kyong Chun, then a visiting scholar at Annenberg's Center for Media at Risk and now a Professor at Simon Fraser University. Chun later became a member of Vasudevan's dissertation committee.
"We were looking at data through a critical approach and really thinking about the impact of data collection, categorization, and analysis on technology and society," Vasudevan says. She wanted to find a way to visualize that impact, and soon, dataDouble was born.
For the project, Vasudevan developed a browser extension that asks users to upload a photo of themselves, and then it alters the person's image, creating a "data double," based on their online behavior over the next two weeks.
For example, the contrast of a user's portrait — the difference between the lightest tones and the darkest tones — becomes greater based on the number of times they visit a search engine. The more a user visits a social media site, the greater their "edge detection," which in its extreme leads the portrait to look like a black and white drawing. The portrait's saturation — the intensity of the colors — is based on the diversity of news and information sites a person visits.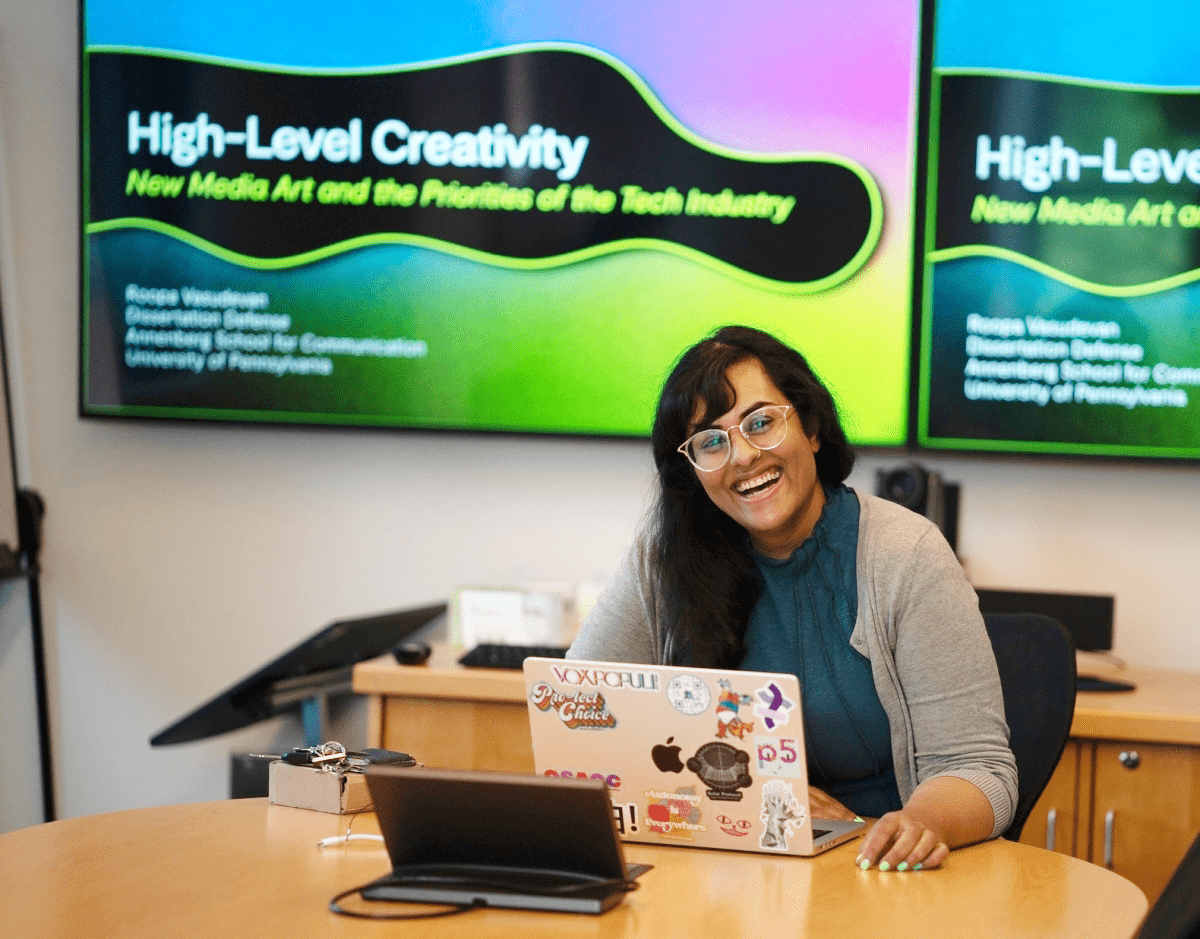 "Your photo still looks like you, but it's been manipulated based on what you do online," says Vasudevan.
Through this code, dataDouble portraits make our online activity visible.
Vasudevan developed the project with 15 beta testers, whose portraits now hang on the walls of the National Liberty Museum in Philadelphia.
Once the test subjects used the extension and sent Vasudevan their dataDouble portraits, they each sat down with Vasudevan to discuss how looking at their portrait made them feel about the impact of technology on their lives. These interviews and renderings of the portraits have been compiled into a zine on sale in the museum's store.
The portraits on display were printed by Vasudevan herself, using a process called risograph printing, a mimeographic process which can be understood as a mix of screen printing and xeroxing. She attempted to replicate more traditional, process color printing—which is used when making photorealistic images—in a spot color format, which is more frequently used for bold graphic design.
"I used four different inks that approximated CMYK as closely as possible, and printed the images in different layers with different inks to further underscore the point that the digital images created by the browser extension are not going to look exactly like the original photo, and the prints will never totally look like the digital images," she says. "There are layers that are lost in this process of data collection, manipulation and categorization."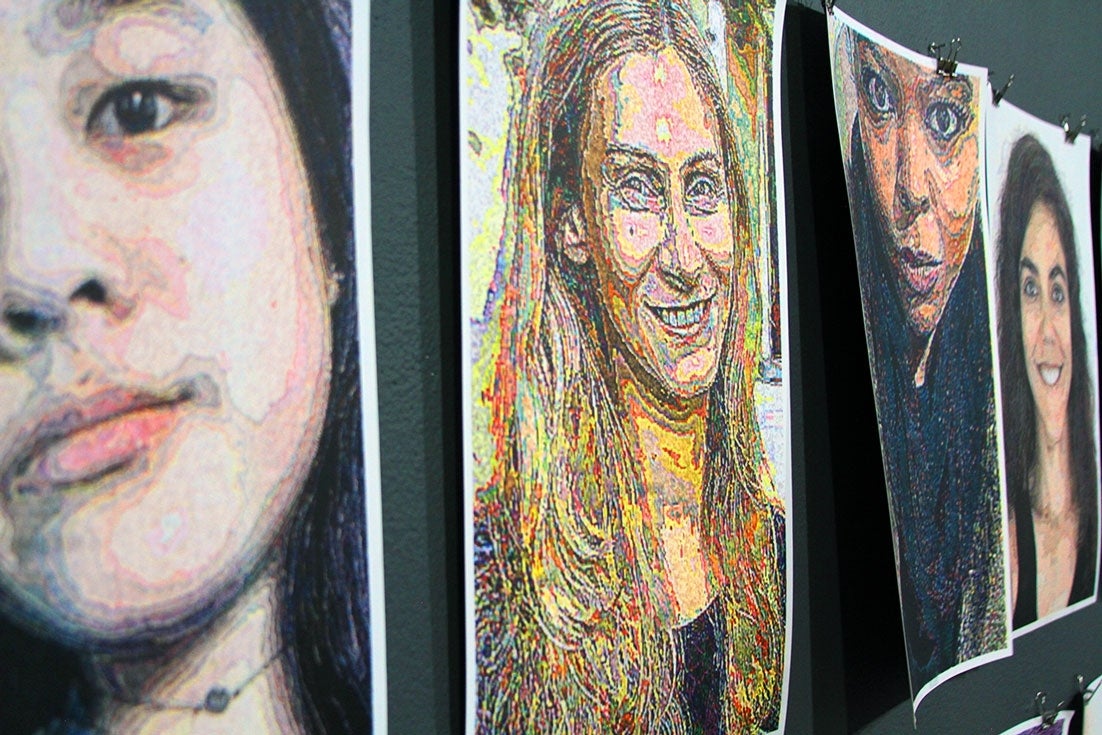 You can view these portraits at the museum in Old City throughout October 30, but Vasudevan doesn't plan on ending the project anytime soon.
"Anyone can go and download the extension and use it for 14 days at datadouble.art," she says. "They are not obligated to send their portraits to me, but I've had a couple of people who have sent me their portraits and I'm keeping an ongoing evolving print library of those. I think it's important that we think more broadly about the impact of data collection practices on the way that we perceive ourselves and our identities."
After five years in the Annenberg School for Communication's doctoral program, Vasudevan recently defended her dissertation and will soon become an assistant professor of art at the University of Massachusetts, Amherst.
"Data Nation: Democracy in the Age of AI" is on view at the National Liberty Museum Thursday-Monday: 10 a.m. – 5 p.m through October 30, 2023.