The New Yorker Features Jamieson's Book Cyberwar, on Russia and the Election
The book is available now in ebook and in print on October 3.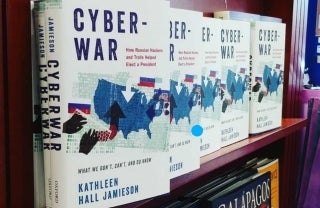 Kathleen Hall Jamieson's "incendiary" new book, Cyberwar: How Russian Hackers and Trolls Helped Elect a President—What We Don't, Can't, and Do Know, is the focus of an eight-page article in the October 1, 2018 issue of the New Yorker. The article, "How Russia helped swing the election for Trump," details how Cyberwar "dares to ask — and even attempts to answer — whether Russian meddling had a decisive impact in 2016. Jamieson offers a forensic analysis of the available evidence and concludes that Russia very likely delivered Trump's victory."
As detailed in the article, Jamieson, director of the Annenberg Public Policy Center and Elizabeth Ware Packard Professor of Communication at Penn's Annenberg School for Communication, initially focused her research on the debates of the 2016 presidential election, but expanded it to examine the wider impact of hacked material and Russian troll accounts. "Her case is based," reporter Jane Mayer writes, "on a growing body of knowledge about the electronic warfare waged by Russian trolls and hackers… and on five decades' worth of academic studies about what kinds of persuasion can influence voters, and under what circumstances."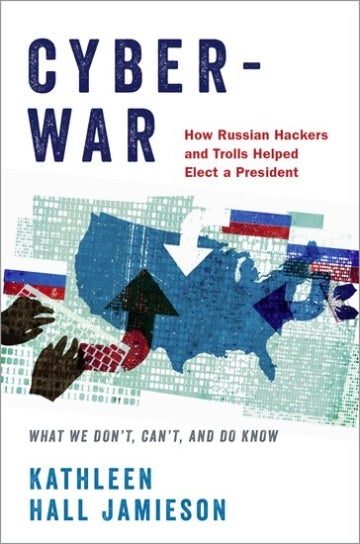 Mayer writes that "when I met recently with Jamieson, in a book-lined conference room at the Annenberg Center, in Philadelphia, and asked her point-blank if she thought that Trump would be President without the aid of Russians, she didn't equivocate. 'No,' she said, her face unsmiling. Clearly cognizant of the gravity of her statement, she clarified, 'If everything else is a constant? No, I do not.' "
Jamieson's emphasis that "efforts to make an 'ironclad' case will be 'thwarted by unknowns' " notwithstanding, Mayer writes, her "meticulous analysis of online activity during the 2016 campaign makes a powerful case that targeted cyberattacks by hackers and trolls were decisive." In her interview with Mayer, Jamieson explained: "I'm not arguing that Russians pulled the voting levers. I'm arguing that they persuaded enough people to either vote a certain way or not vote at all." She "expressed confidence that unbiased readers would accept her conclusion that it is not just plausible that Russia changed the outcome of the 2016 election — it is 'likely that it did.' "
Mayer also writes that "Jamieson told me that one of her greatest concerns is that voters were unaware of the foreign effort to manipulate them on social media. Had the public known, she believes, there likely would have been a significant backlash. 'We want voters to be aware of who is trying to influence them,' she said. 'That's the reason we have disclosure requirements on our campaign ads. We've known, at least since Aristotle in Western culture, that the source is judged as part of the message.' "
Click here to read the full article at The New Yorker.
The book Cyberwar: How Russian Hackers and Trolls Helped Elect a President is available now in ebook and in print October 3, 2018. It can be ordered from Oxford University Press. Or find it here on Amazon.com.
Media Contact
Michael Rozansky
(215) 746-0202
michael.rozansky@appc.upenn.edu