Nicholas Dias Receives Penn Prize for Excellence in Teaching
A joint doctoral student in Communication and Political Science, Dias was one of 10 recipients.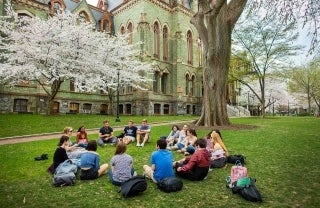 The Grad Center at Penn announced yesterday that doctoral student Nicholas Dias has received the 2022 Penn Prize for Excellence in Teaching by Graduate Students. The highly competitive award recognizes the profound impact of graduate students on education at Penn, and nominations come directly from undergraduate and graduate students.
This year, there were 188 nominations for 103 different graduate students, and ten prizes were awarded by the Office of the Provost.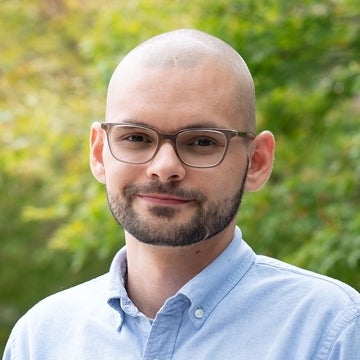 Dias is a joint doctoral student in Communication and Political Science, and he received the award for serving as a teaching assistant in Political Science professor Michele Margolis's class "Introduction to American Politics" in fall 2021.
Dias was totally committed to his students, says Margolis, and it was clear they felt comfortable approaching him to ask questions, share something related to the class, or just say hello.
"Given how difficult the last two years has been on everyone, our undergraduates included, I think Nic's students benefited from having a close contact at Penn who made it very clear that he cared a great deal about his students' well-being, health, and safety," says Margolis. 
Margolis was also impressed how Dias was able to explain concepts and theories in a clear, concise manner that resonated with students.
Dias himself is humbled by the tremendous honor.
"It feels so good to know that I made some positive difference in my students' lives — enough that some of them would nominate me for this award," says Dias. "It really makes all the hours grading and prepping lesson plans worth it."
In his own research, Dias studies how information overload and human cognitive limitations produce partisan behavior, including affective polarization, partisan motivated reasoning, and straight ticket voting. He also is interested in how public policies become important to people who aren't directly affected by those policies.
A reception for Dias and his fellow recipients will be held at the Graduate Student Center on Thursday, April 14 from 4:00 - 6:00pm.
Dias is the fifth Annenberg student to receive this award in its two decade history. Past winners include: Muira McCammon, Allyson Volinsky (Ph.D. '19), Rachel Stonecipher (M.A. '16), and Kevin Gotkin (Ph.D. '18).