Olivia González Named 2022-2024 George Gerbner Postdoctoral Fellow
González studies the politics of media education and production in the United States.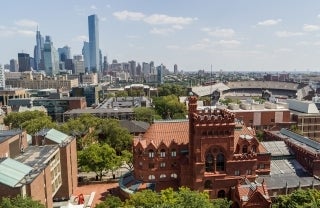 Olivia González has been named the 2022-2024 George Gerbner Postdoctoral Fellow at the Annenberg School for Communication at the University of Pennsylvania.
González, who studies the politics of race, class, and gender within contemporary structures of media education and production, received her Ph.D. from the University of Southern California Annenberg School for Communication and Journalism in 2022.
González's dissertation, titled "MATCH CUT: The Making of Professional Screenwriters and a (Counter)storytelling Movement in Film School," explores the storytelling practices and professional socialization of aspiring film and television writers, and proffers equitable, accessible, and inclusive pedagogical practices for film and media educators. Her project was supported by the USC Graduate School's Endowed Ph.D. Fellowship.
As a Gerbner Fellow, González will continue to investigate inequities and strategies for improving equity, accessibility, and inclusion in media production and education. In particular, building from her dissertation research, she will examine Latine creatives' educational and storytelling experiences in East Coast film schools.
In addition to her dissertation research, González has produced multi-methodological scholarship on representations of race and gender on television, epistemic injustice in book publishing, the digital divide, and minoritized students' educational experiences in media production and STEM programs. Her research has been published in Critical Studies in Media Communication and the International Journal of Communication.
Prior to her doctoral work, González graduated summa cum laude from the University of San Diego with an honors B.A. in Communication Studies. Her honors thesis, "'Mom and dad don't get it': Investigating Adolescents' Motivations for Participating in the Internet Meme Genre," explored how adolescents strategically use Internet memes in their communication practices to negotiate identity formation and to develop and sustain interpersonal relationships. González was a Ronald E. McNair scholar and is currently a member of the Lambda Pi Eta and Phi Beta Kappa national honor societies.