Pawel Popiel Named 2021-2023 Gerbner Fellow
He studies the politics of platform regulation and communications policy.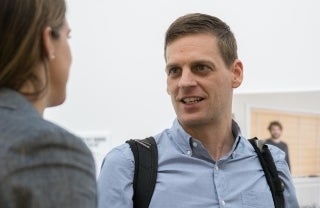 Pawel Popiel, currently a postdoctoral fellow with the Media, Inequality & Change Center, has been named the 2021-2023 George Gerbner Postdoctoral Fellow at the Annenberg School for Communication at the University of Pennsylvania.
Popiel, who studies the politics of platform regulation and communications policy, defended his dissertation last Fall and graduated from Annenberg in December 2020. Entitled "Emergent Governance: The Politics of Competition in Digital Markets," his project explored the politics and the blurring lines of competition policy in media and digital platform sectors.
As a Gerbner Fellow, Popiel will build on his dissertation, examining how stakeholders — ranging from policymakers to civil society organizations to industry actors — attempt to shape policy oversight of digital platforms. He will explore how these stakeholders, with different policy goals, strategically construct the policy problem to be addressed, and the solutions to it, in a policy arena that spans a growing number of regulatory jurisdictions, yet plays an increasingly central role in digital communications and political life.
His work has appeared in academic journals such as Critical Studies in Media Communication, the Journal of Broadcasting & Elections, and Communication, Culture & Critique, and he has received top student paper awards from the Association for Education in Journalism and Mass Communication (AEJMC) and the Research Conference on Communications, Information and Internet Policy (TPRC).
Prior to beginning his doctoral work at Annenberg, Popiel completed a master's degree in media studies from the University of Texas at Austin. He also holds a bachelor's degree in Political Science from McGill University.