Professor Emily Falk Named New Associate Dean of Research
Falk will oversee School-based centers and develop strategies for expanding research infrastructure.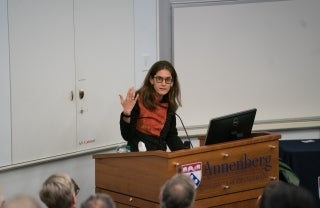 Dean John L. Jackson, Jr. announced yesterday that Professor Emily Falk has been named the new Associate Dean of Research for the Annenberg School for Communication. Held by a member of the standing faculty, the role was created in 2019 to oversee all School-based centers and develop strategies for expanding the school's research infrastructure.
Professor Barbie Zelizer had been serving in this capacity since the position's inception. Under her tenure, the school's centers increased their collaboration on events and speakers. Zelizer also helped organize support for the school's postdoctoral fellows, centers, and other research entities. 
Falk, who is a Professor of Communication; Psychology; Marketing; and Operations, Information and Decisions at Annenberg, studies behavior change and persuasion, with a particular focus on how the brain processes messages, which helps to tell us what makes communication efforts more or less effective.
She is also Director of Annenberg's Communication Neuroscience Lab, a Distinguished Fellow of the Annenberg Public Policy Center, and a Provost's Fellow at the Netter Center for Community Partnerships.
Falk's research has been recognized by numerous awards, including early career awards from the International Communication Association, the Society for Personality and Social Psychology Attitudes Division, a Fulbright grant, the Social and Affective Neuroscience Society, a DARPA Young Faculty Award, and the NIH Director's New Innovator Award. She was named a Rising Star by the Association for Psychological Science. 
Falk is looking forward to working with Annenberg's staff, faculty, students and community partners, as well as other departments throughout the University, and partners beyond the academy to support a broad and evolving range of scholarship. 
"As the School's Founder Walter Anneberg asserted, 'Every human advancement or reversal can be understood through communication,'" says Falk. "Annenberg's faculty, students, staff and community partners are addressing many of society's most pressing problems, and pushing the frontiers of how we create scholarship that matters. I see this role as an amazing opportunity to support the brilliant, creative, and impactful research that is already happening, and expand the pie even further."
"Emily runs an active research lab whose work directly translates into helping people lead healthier and happier lives," says Dean John L. Jackson, Jr. "Her experience running large and collaborative grant-funded studies as well as her commitment to mentoring other scholars make her an ideal candidate to build the school's research infrastructure and expand opportunities for both students and faculty."