Scholarship Through the Lens of an Iconic Media Brand
A new course centered around HBO offered undergrads hands-on exposure to media production.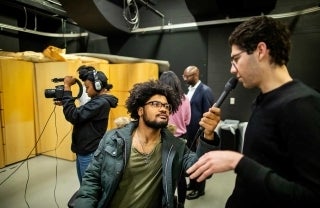 Penn undergraduates Dallas Taylor, Dominique Thomas, and Philippe Atallah — then a junior and two seniors, respectively — walk out of the Annenberg School for Communication building and head toward Locust Walk.
Their assignment is straightforward enough: Film two or three person-on-the-street interviews, then return to the lab to showcase the video they took. They strike out a few times before two undergrads at a table in the ARCH Building finally agree to help.
"We're asking questions about HBO," Taylor tells them, as he turns to Atallah, who is doing the actual filming. "Are you good? Is the camera rolling?"
Taylor asks the participants if they know anything about HBO and how it differs from other streaming services, whether they think their lives would make good fodder for a series. He ends the mini-interview on a light note. "If you had a dragon, what would you name it?" he says, smiling. "Think about it. It's a hard question."
One of the pair says she'd go with Fluffles or Tiny, the other says Jeffrey. Taylor and his teammates film two more students in the Makuu office across the way, then return to the media lab in the basement of Annenberg to hear what their classmates and professors think.
By early March, nearly halfway through spring semester, they're used to this kind of hands-on work. It's part of a new course called The Annenberg Media Lab 2020: It's Not Just TV - The HBO Project, co-taught by Annenberg dean John L. Jackson, Jr. and Amitanshu Das, a senior fellow and filmmaker at Annenberg and the Graduate School of Education. The course, which went virtual in mid-March as the University made changes to accommodate COVID-19 restrictions, aimed to give students a chance to combine the theoretical and the practical, plus dive deep into what Jackson describes as televisual culture and production.
"For a long time, the students — undergrads especially — have been clamoring for courses like this that really explicitly mix theory with practice," he says. "We thought using HBO might be a nice way to create an oral history project linked to this transformational entity and to give the students an entry point for making sense of why it matters. We also thought it could be a nice opportunity for them to think differently, more critically about important media content."
An Inside Connection to HBO
It helped that a few years ago, Annenberg alumnus Howard Burkat, who had formerly worked at HBO, reached out to Michael X. Delli Carpini, then the school's dean. "The executives who had founded the company in the 1970s were starting to get older and no one had really documented their story thoroughly," Jackson explains. "[Howard] had this idea that someone should be recording their life histories and that of HBO itself."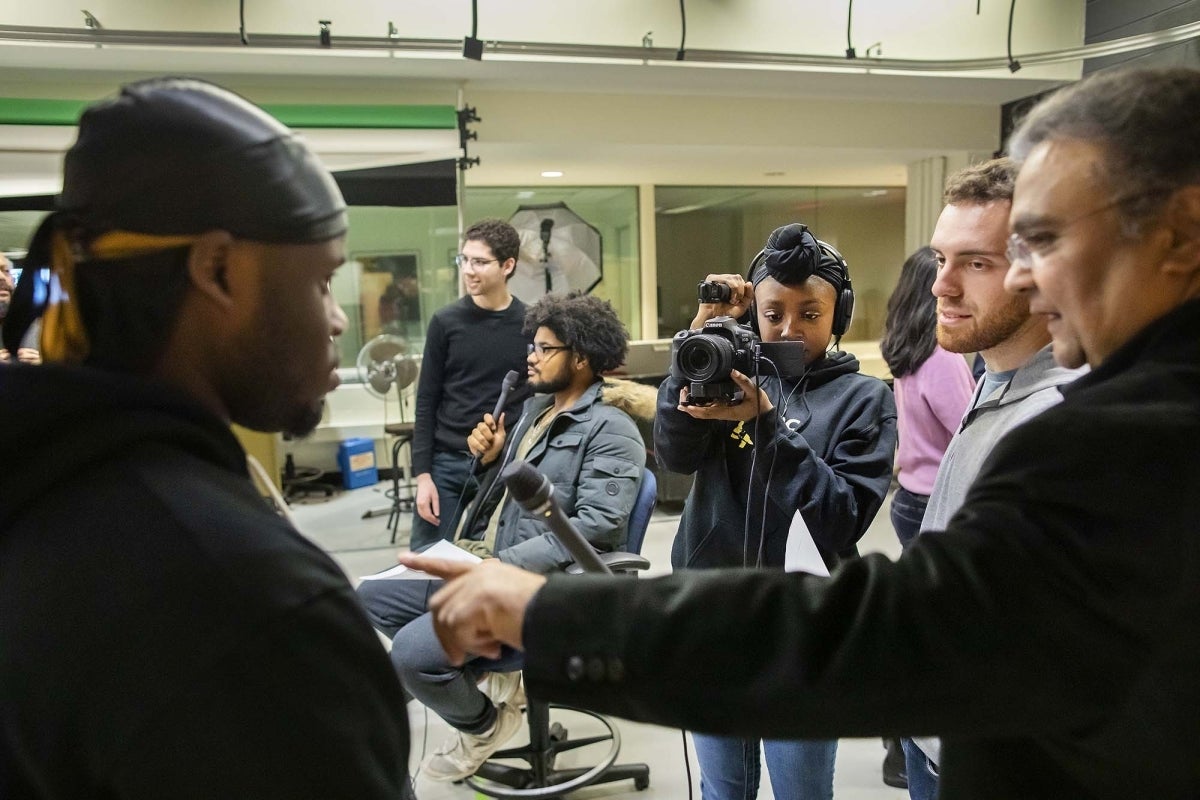 Annenberg is not traditionally a production school, but Jackson and others had already co-founded CAMRA, the Collective for Advancing Multimodal Research Arts, an initiative that counted filmmaking within its scholarship. Delli Carpini brought the HBO idea to Jackson. "He asked me if CAMRA would be interested in creating a video archive of these executives and about what it meant in the 1970s to do what they did," Jackson says. "I said, 'This sounds fascinating, let me talk to the students.' They were game."
Over several years starting in 2013, he and the CAMRA students conducted nearly 40 interviews with HBO executives. Right away, Jackson realized how rich the source material was. "We left those first couple of interviews literally floored," he says. "The way they told the stories, it was like we were back in the '70s. There was so much drama. They were so engaging and interesting." What began as an archive became the start of a full-length documentary, one still in production today.
When Jackson became Annenberg dean in 2019 after several years as dean of the School of Social Policy & Practice, he revived the HBO project, hoping to build on the previous documentary work and give current undergraduates access to those primary source materials. Ideally, it could take shape as a new part of the curriculum—which it eventually did when it became the new HBO class.
The Course Itself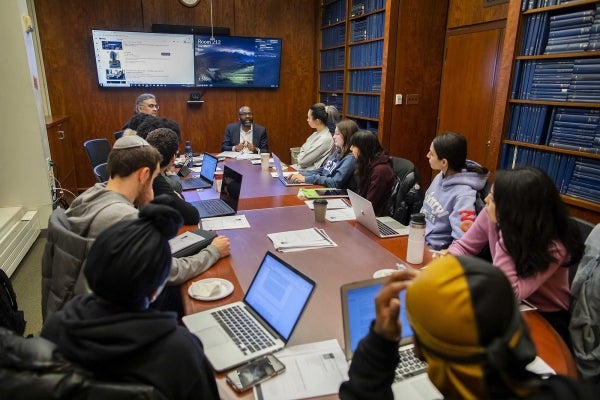 As Jackson and Das structured the course, they wanted to incorporate both classroom and lab time. "The idea was, let's get them to understand HBO's story, not just the history but what kind of shows HBO has produced, what critiques there have been of the programming," Jackson says. "We also wanted them do close readings of HBO content. Then we'd put all that together and have them think about, if they had to create an HBO show based on their knowledge, how would they pitch that show and what would be their rationale?" Beyond that, a lab component co-taught by Waldo Aguirre, Annenberg's director of multimedia services, and Anna Gamarnik, media lab manager, would teach the undergrads practical aspects of production and post-production, camera use and editing.
The topics and the structure — plus three hours of guaranteed time a week with Jackson — appealed to Thomas and Taylor. Both are CAMRA undergraduate fellows, a program funded, in part, by The Andrew W. Mellon Foundation, which supports undergrads from underrepresented groups who are interested in conducting multimodal scholarship and would like to pursue graduate school. Both admittedly enjoy HBO, too.
"I didn't realize that so many of the series that I was watching were from HBO," says Thomas, who earned her undergraduate degree in May and is now in a GSE master's program. "We really get into the nitty gritty. These are the people who made this company talking about this stuff. It's really cool, thinking about the economic history of it, the rivalries with different entities in media production."
The students have the freedom to choose how they complete most assignments, giving them a chance to practice their multimodal scholarship. "We can write or make a video or make some sort of experimental audio piece if it fits with what we want to do," says Taylor, who is a medical anthropology major. "That's been super liberating as an academic experience. You get to mix making with learning, which is not something that you often get to do in class."
The semester culminated in three big assignments: an analysis of an HBO project of their choice, a story about HBO using archival material, and a show pitch. Taylor proposed a children's program he called "Untold, Uncut," in the same vein as "Crashbox," an educational HBO program that aired in the late-1990s. "Untold, Uncut" would focus on the lessons children don't learn in school but should, he says.
"There are certain things that middle schoolers and students in elementary school need to know that they aren't necessarily exposed to," Taylor says. "I want to look at what they're learning in class and think about what they're not learning that is crucial to their development and to their self-esteem."
Thomas' pitch, which she called "Behind the Glass," reimagines the workplace comedy, focusing on dining hall workers on a university campus. She had several characters in mind. "One is going to be modeled after my dad, who grew up in north Philadelphia and now has two suburban daughters," she says. "The relationship between the students and the people who work in the cafeteria is going to be a big aspect, too. I want to be able to talk about bigger issues through smaller day-to-day interactions of funny people, of regular people."
Nothing New Under the Sun
A comedy about exchanges in a work setting isn't new, and Thomas understands that. But she's aiming to find a unique way to portray it, something she learned in the class with Jackson and Das. "It's 2020. Every story has been told. Everything gets recycled," she says. "What you have to do is tell universal stories in a new way, which is increasingly difficult the more content that gets pushed out."
Part of that entails looking at that content — online, via news outlets, on television — with a critical eye to seek out elements beneath the surface that a casual viewer or reader might miss or wouldn't be able to unpack.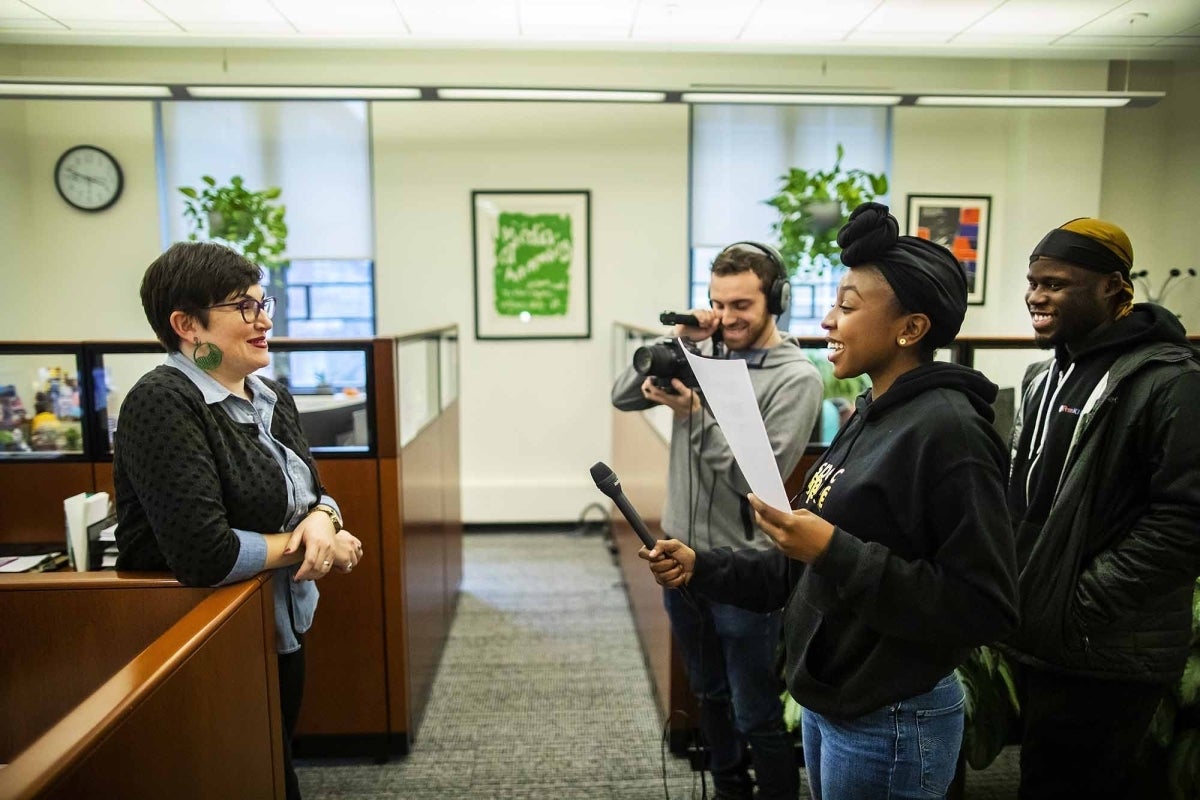 "These are skills that they're going to be able to incorporate, we hope, into all the ways they interact with important public, popular, and contemporary media from this point forward," Jackson says. "One of the best things about teaching at the University of Pennsylvania is how inspiring the students are; they jumped into this pretty unorthodox and untraditional class with both feet."
Back in the lab, after Taylor, Thomas, and the rest of their classmates return from shooting interviews, they engage in a lively conversation about how the videos sound and look. No one takes offense to constructive criticism. They're enthusiastic and excited to learn, emotions that underlie most of what the 14 undergraduates do in this course. And although the forced remote learning for the semester's second half required some tweaks from Jackson's original vision, the overall message didn't change. "I hope that after a class like this one," he says, "students will never look at digital media platforms the same way again."