Two Communication Majors Present Their Work at Prominent Academic Conferences
Yamila Frej and Sarika Rau were invited to present their research papers at two of the largest conferences in the field of Communication.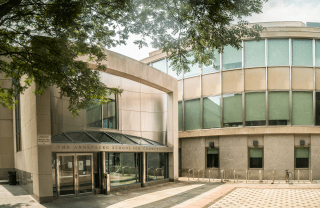 Having a paper accepted to a conference is a major success for a graduate student. Not all papers get accepted. It's not even unusual for professors to have their papers turned down. 
It is then a mark of astonishing scholarship that recently, two undergraduate Communication majors, Yamila Frej (C'23) and Sarika Rau (C'24), had papers accepted to major academic conferences: the International Association of Media and Communication Research (IAMCR) Conference and the National Communication Association (NCA) Annual Convention, respectively. 
Rau even won a Top Student Paper Award by NCA. The award name doesn't specify "graduate student," because it's almost assumed that the recipient is in graduate school.
Frej and Rau were encouraged to submit papers to these conferences by Annenberg Lecturer Murali Balaji, who taught Frej in SNF Paideia designated course "Media Industries and Nationalism" and Rau in the Paideia course "Drawing the Blue Line: Police and Power in American Popular Culture."
"Yamila and Sarika are outstanding scholars who have an extraordinary ability to dive deeper into issues and critically engage with scholarship," Balaji says. "They are great role models for other Communication majors to look at their coursework as more than something to submit for a grade, but as an actual contribution to intellectual, social, and activist discourse."
Yamila Frej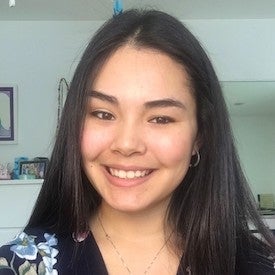 Paper: "Islamic Feminism Through Zines: Subverting Nationalistic Symbols for Gender Justice"
About the paper: Islamic Feminism Through Zines explores the recent rise in independent (maga)zine-making as a subversive practice for Islamic feminists – those who choose to place religion at the center of their activism. The paper seeks to answer the question: How do Islamic feminist zines produce radical ideology from the symbols, scriptures, and customs contained within Islam? The study finds evidence that Islamic feminists both subvert traditional Islamic symbols to create new radical meanings, and reinterpret religious scripture to uncover preexisting themes of gender equality. 
Frej, a Communication major with minors in Design and Environmental Humanities wrote her paper as a student in "Media Industries and Nationalism."
She chose to be a Comm major because the field spans so many areas of study, she says. Her paper does the same, "exploring religion and activist media in the context of Islamic feminism," she says. "I had read about state-sponsored Islamic media, but I wanted to explore the existence of guerrilla publications as a form of resistance."
Her paper was accepted to the IAMCR Conference in late spring, and in July she traveled to Lyon to present it in person.
She says that attending the conference was both exciting and eye-opening.
"Immersing myself in the birthplace of the theories and innovative ideas that fascinate us in the classroom was a great full circle moment as I close out my senior year," she says.
Sarika Rau
Paper: "The Making of a Vigilante: Law-adjacent Heroes in Popular Media"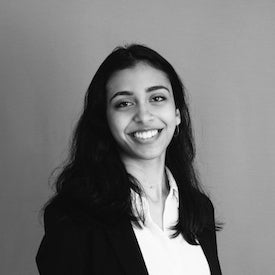 About the paper: Public opinion on law enforcement and the general justice system has changed dramatically over the past several decades, as the historical archetype of police officers as heroic bringers of justice has slowly dissolved. Media has undoubtedly had an outsize effect on this trend due to the effects of media movements, most notably the Black Lives Matter movement. In the paper, I investigate more subtle media-related causes of changing opinions on police, as well as how these opinions have bled into popular culture and media and vice versa. Specifically, I look at cop shows that depict various forms of vigilantism, including "Watchmen" (2019) and "Reacher" (2022), to build a cohesive story about vigilantism and a popular lack of faith in the police as an institution. In doing so, I outline the three core characteristics that are required to make a vigilante: confidence, a sense of justice, and heroism, and establish how each of them is driven by depictions of police incompetence. Through this analysis across three episodes each of Watchmen and Reacher, my paper finds that all three of the character traits that define vigilantes criticize law enforcement in some way, suggesting that vigilante cop shows by nature must be a criticism of institutions of authority.
Rau is in a dual degree program studying Business Analytics at Wharton and Communication at Annenberg with a concentration in Data and Network Science. She wrote her paper as a final project for the course "Drawing the Blue Line: Police and Power in American Popular Culture." 
She didn't think she'd receive an award for her paper, let alone one usually reserved for graduate students.
"Receiving the top graduate paper award was really unexpected," she says, "but it's such an honor and it's definitely very encouraging as someone who doesn't have a lot of prior experience with submitting to conferences."
The NCA conference will be held this November in National Harbor, Maryland, and Rau is excited to present her paper there. "I really enjoyed the process of writing it and I'm looking forward to sharing it with the academic community," she says.
Rau is unsure if she will pursue a career in academia in the future, but for now, she is working on a new research paper: her senior thesis.