CDCS Colloquium: Kareem Khubchandani, Tufts University
October 19, 2022
3:30pm-4:30pm
"Divas, Drag Queens, Aunties, and Other Academic Personas"
Photo credit: Julia Taubitz / Unsplash
About the Talk
Tracing his trajectory across three intellectual projects—one on queer Indian nightlife, the second on drag performance, and the most recent on the figure of the aunty in South Asian public culture—Kareem Khubchandani explores co-constitutive relationships between research, teaching, and artistry.
This talk maps out his academic personas, the various roles he has been cast into by his research subjects, audiences, and students. While researching queer nightlife in India, he joined a queer dance group called The Pink Divas that became central to his research agenda. In Chicago, Kareem's search for a South Asian drag queen led him to become one, reorienting not only his research trajectory, but his pedagogy. Aging in the nightclub, drag scene, and classroom have led him to become an aunty; while she might not be as glamorous as her counterparts she is still full of queer possibilities.
Kareem moves across genres of the artist talk and research essay to center and interrogate the academic's body. Where the scholar's body is often obscured in preference for their mind, evacuating the body from academic labor is a luxury rarely available to queer people of color. This talk provides an opportunity to think about the pitfalls and possibilities of self-fashioning in the academy for minoritarian subjects.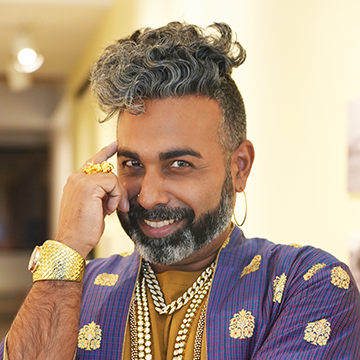 About the Speaker
Kareem Khubchandani is Associate Professor in the department of theater, dance, and performance studies at Tufts University. He is the author of Ishtyle: Accenting Gay Indian Nightlife (University of Michigan Press, 2020), Decolonize Drag (OR Books - forthcoming 2023), co-editor of Queer Nightlife (University of Michigan Press, 2021) and curator of the Text and Performance Quarterly special issue "Critical Aunty Studies."
Disclaimer: This event may be photographed and/or video recorded for archival, educational, and related promotional purposes. We also may share these video recordings through Annenberg's website or related platforms. Certain events may also be livestreamed. By attending or participating in this event, you are giving your consent to be photographed and/or video recorded and you are waiving any and all claims regarding the use of your image by the Annenberg School for Communication. The Annenberg School for Communication, at its discretion, may provide a copy of the photos/footage upon written request.