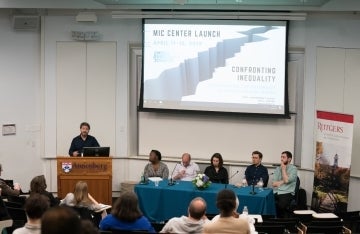 Media, Inequality & Change Center Launch Symposium
April 11-12, 2019
5:30pm
Annenberg School for Communication
Audience
Open to the Public
"Confronting Inequality: Reimagining the Future of Journalism and Work"
The event has ended but is available to watch on YouTube:
About the Event
Our society faces a critical juncture. On one hand, we are in a moment of rapid technological advancement that creates greater communication, information sharing, and numerous democratic possibilities. On the other hand, we see a collapsing commercial model for journalism, monopolistic platforms that spread misinformation with little accountability, more economic insecurity, and a debased political process.
Recognizing these potentials and perils, the MIC Center is launching with a two day, multidisciplinary conference that gathers scholars, practitioners, policymakers, and activists focused on understanding this conjuncture from structural and historical perspectives, while also offering viable strategies for social change.
Schedule
Thursday, April 11
5:30 – 7:00pm
Keynote: John Jackson in conversation with Naomi Klein
7:00 – 8:30pm
Opening Reception
Friday, April 12
8:30am – 5:30pm
Full Day Symposium 
Speakers
Confirmed speakers include: 
Marc Lamont Hill (journalist, scholar, author, and activist)
Juan González (journalist and co-host of Democracy Now!) 
Michael Copps (former Commissioner of the U.S. Federal Communications Commission)
Des Freedman (Goldsmiths University of London and founding member of the Media Reform Coalition)
Jean Friedman-Rudovsky (Co-Executive director, Resolve Philadelphia) 
Jamie Woodcock (Oxford Internet Institute)
Chenjerai Kumanyika (Rutgers University)
Helen Gym (Councilmember, City of Philadelphia)
and many others!
For more information, email briar.smith@asc.upenn.edu.