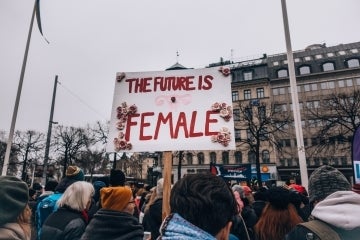 New Directions in Feminist Thought: Research in Times of Crisis and Change
January 26-27, 2022
Various Times
Audience
Annenberg Community & Invitees
This two-day event organized by City University of London, Coventry University, LSE, USC Annenberg, and Annenberg Penn, will consist of panels on a range of subjects connected to gender and research in times of crisis and change.
About the Event
Building on a successful event last year, this day event organized on a consortium basis by City University of London, Coventry, LSE, and Annenberg (UPenn & USC) will consist of several panel sessions scheduled across 2 days. Each panel with have 3/4 presentations lasting 10 minutes with time for questions on a range of topics from contemporary feminist research.
We are inviting PhD and post-doc researchers to showcase their work from all areas of research within the field of feminist and gender studies to present work on a range of subjects connected to gender and research in times of crisis and change.
This might include, for example, work on social reproduction and COVID, violence and consent, backlash and protest, networks of care, post-colonial feminism, new queer theory, feminist autoethnography, the new ecofeminism, social media microcelebrity, and so on. The emphasis will be on creating a friendly, informal and relaxed forum for presenting new work and new ideas as part of an attempt to develop critical feminist pedagogy.
Schedule
Download the full program and schedule by clicking the button below.
New Directions In Feminist thought - Day 1 & Day 2
Registration
The event will take place on Zoom. Please click here to register and receive the link. Attendance is limited to the Annenberg Community and those of our partner schools. 
Panels
Anti Feminism and Violence
Creative industries, Crisis, and Change
Feminist Movements in Times of Crisis and Change
Feminist Methodologies
Social Reproduction
Youth in/and Crisis
About the Speakers
There will be a keynote talk with Chantelle Lewis, Julia Ticona, and Melanie Kennedy in conversation.
Dr Chantelle Jessica Lewis is the Andrew Pitt Junior Research Fellow in Black British Studies, Pembroke College University of Oxford. Chantelle is a public sociologist, broadcaster and event director. Chantelle's research is situated at the intersections of socio-historical analysis; politics, Black feminism, family studies and racism studies. She is also co-host and co-founder of the Surviving Society podcast and the Deputy Director of Leading Routes (See #BlackinAcademia events & campaign).
Dr. Julia Ticona is an assistant professor at the Annenberg School for Communication at the University of Pennsylvania, where her research investigates the ways that digital communication technologies shape the meaning and dignity of precarious work, including care work. She is Core Faculty at the Center for Digital Culture & Society, a Faculty Affiliate at the Data & Society Research Institute, and an Associate Fellow at the Institute for Advanced Studies in Culture.
Melanie Kennedy is Lecturer in Media and Communication at the University of Leicester. She is the author of Tweenhood: Femininity and Celebrity in Tween Popular Culture (2019) and a co-editor of The Wedding Spectacle Across Contemporary Media and Culture: Something Old, Something New (2020). Her research examines media representations of gendered, age-defined, classed, sexualised, raced identities (in particular tweens, young female celebrities, and girls on TikTok and in the purity movement), and the popular culture that addresses these subjects. She is the Associate Editor of Commentary and Criticism for Feminist Media Studies (Routledge).
 
Header photo by Lindsey LaMont on Unsplash.
Disclaimer: This event may be photographed and/or video recorded for archival, educational, and related promotional purposes. We also may share these video recordings through Annenberg's website or related platforms. Certain events may also be livestreamed. By attending or participating in this event, you are giving your consent to be photographed and/or video recorded and you are waiving any and all claims regarding the use of your image by the Annenberg School for Communication. The Annenberg School for Communication, at its discretion, may provide a copy of the photos/footage upon written request.