Call for Applications: Postdoctoral Fellowship - Media, Inequality & Change Center
The MIC Center is recruiting a postdoctoral researcher to focus on the political economy of local media.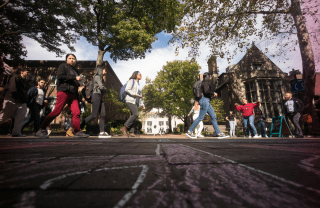 The Media, Inequality & Change Center (MIC) has a project currently under way that aims to expand internet access through policy interventions that foster alternative models of affordable and reliable internet service. A second project will critically examine local news media infrastructures and institutions to assess how they are serving community information needs.
Skills and qualifications
Ph.D. in communication or related field, with an emphasis on political economic analysis
Experience conducting quantitative and qualitative research
Experience presenting data in compelling and accessible ways
Strong writing skills, including experience writing for non-academic audiences
Excellent networking skills and experience with activist organizing a plus
Familiarity with and connections to Philadelphia-area community groups also a plus
This post is full-time and for 12 months beginning on September 1, 2023. The postdoctoral fellow will be provided a stipend of $60,000, a research/travel stipend of $3,000, relocation funds of up to $1,000, health insurance, a workspace, computer, and library access. The fellow will be expected to work on-site in Philadelphia, though some remote work is also possible.
About MIC
The Media, Inequality & Change Center occupies the intersection of technology, policy, and social justice. It is committed to studying the political economy of social problems, media, and democracy, while engaging local activist projects, and drawing connections with national and international social movements.
Submitting Your Application
Eligibility
You must have received a Ph.D. by July 2023.
Materials
In addition to a CV and one sample publication (not to exceed 30 pages in total), please provide a cover page that includes your name and contact information, dissertation advisor name and contact information, defense date (if degree not awarded), and a short statement of institutional fit (not to exceed 300 words). Please explain how your background and experience aligns with MIC's mission.
Timeline
All materials should be sent as a single PDF document to briar.smith@asc.upenn.edu by March 10, 2023.
Additional Information
If you have additional questions, please email briar.smith@asc.upenn.edu.
The University of Pennsylvania is an affirmative action/equal opportunity employer. All qualified applicants will receive consideration for employment and will not be discriminated against on the basis of race, color, religion, sex, sexual orientation, gender identity, creed, national or ethnic origin, citizenship status, age, disability, veteran status, or any other characteristic protected by law. For more information, go to http://www.upenn.edu/affirm-action/eoaa.html.