Darin Johnson Wins Penn Prize for Excellence in Teaching
Johnson was nominated by undergraduate students for this award.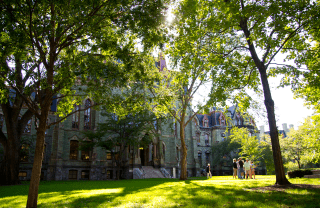 Doctoral student Darin Johnson has received the 2021 Penn Prize for Excellence in Teaching by Graduate Students. The highly competitive award recognizes the profound impact of graduate students on education at Penn, and nominations come directly from undergraduate and graduate students. Ten prizes are awarded annually by the Office of the Provost.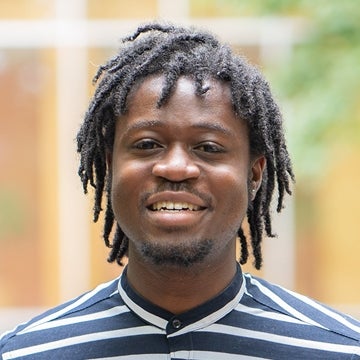 Johnson was nominated by the students in Matthew Brook O'Donnell's undergraduate course COMM 318: Stories from Data, for which Johnson was a teaching fellow during the Fall 2020 semester.
"Darin frequently went above and beyond what was expected to help students during a challenging semester of virtual learning," says O'Donnell, Research Assistant Professor. "Without prompting, students regularly raved about Darin's teaching, help, and attentiveness to their requests. But most of all they mentioned his kindness, patience, and how he inspired them to examine key issues of inequality, diversity, and race."
Prior to coming to Penn, Johnson had several international teaching experiences. In Madrid, he taught English as a second language to high school students in the public school system, while pursuing his master's degree. And in Tokyo, he taught English as a second language to high school students through a summer internship program.
"This award is meaningful to me because it reminds me of the students in COMM 318 who really just went above and beyond last semester," Johnson says. "My passion for teaching lies in my belief that teaching is simply about connecting with people as we exchange information about the world around us. When I think about this award, I feel so grateful, especially during the pandemic, to have been able to connect with the students in COMM 318."
Johnson's research interests lie at the intersection of the brain, identity, and health. He is specifically interested in understanding how people with marginalized identities code-switch their language and/or behavior, and how they attempt to understand the minds of people around them. He holds an undergraduate degree in Neuroscience, Spanish, and Medicine Science & The Humanities from Johns Hopkins University and a master's degree in International Education from the Universidad de Alcalá in Spain.
Johnson is the fifth Annenberg student to receive this award in its two-decade history. Past winners include Muira McCammon, Allyson Volinsky (Ph.D. '19), Rachel Stonecipher (M.A. '16), and Kevin Gotkin (Ph.D. '18).