Netflix in Mexico
Undergraduates Teia Hudson and Miraya Gesheva spent the summer working with Assistant Professor Juan Llamas-Rodriguez to look at how streaming in Mexico has changed during the past 10 years.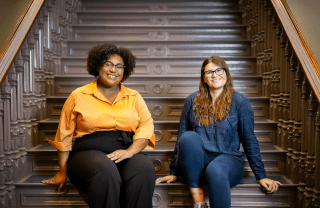 Growing up in Bulgaria, Miraya Gesheva and her younger brother were big fans of the movie "How to Train Your Dragon," but they couldn't watch a television series based on the 2010 film when it debuted on Netflix in 2015, as the streaming platform was not yet available in their country. Gesheva was excited when Netflix finally arrived in Bulgaria the following year, but many shows were not available there, and those that were lacked Bulgarian subtitles. She learned a program for creating subtitles and translated for her brother, who was still learning English.
The rising second-year student became more interested in the entertainment industry and is planning to major in cinema and media studies, and she likes asking fellow international students about cinema in their countries. She spent her summer in the U.S. focusing on Netflix in another country: Mexico.
Gesheva and fellow second-year Teia Hudson, who is from Philadelphia, have been working on a 10-year assessment of Netflix in Mexico with Juan Llamas-Rodriguez, assistant professor in the Annenberg School for Communication, as part of the Penn Undergraduate Research Mentoring Program. Each student receives a $5,000 award for the 10-week program, supported by the Center for Undergraduate Research and Fellowships.
Llamas-Rodriguez is part of the Global Internet TV Consortium, which includes scholars from around the world researching the evolution of streaming services in different countries. Since 2016, scholars have published dossiers on 25 countries (though not Bulgaria).
Netflix debuted in Mexico in 2012. According to the dossier Llamas-Rodriguez penned in 2017, the country was the second-largest video-on-demand market in Latin America, after Brazil. Netflix was adopted quickly due to a lack of regulation, but lack of broadband stifled expansion. Llamas-Rodriguez says the dossier is "very outdated" in terms of the market and original content, so he and his students have spent the summer working on an updated version.
Hudson, who plans to declare a major in communication, wants to be a journalist and tell underrepresented stories, and she was drawn to this opportunity to do research instead of just an internship.
"Who would think that you get to study foreign media? And that's really what I want to eventually do," she says. "There's so many things to learn in the world about different people, and no matter their background it's always good to take a step into someone else's world and see what they're seeing."
Hudson and Gesheva have been finding newspaper articles about Netflix in Mexico, summarizing their findings, and writing part of the dossier. They have also added to a spreadsheet of Netflix originals produced in Mexico, and Hudson thought it was interesting how few of the shows got renewed for a second season. Hudson noticed that Spain is a dominator in Spanish-language films and streaming series, and she wishes there were more resources and funding to back the industry in Mexico.
Gesheva says she categorized articles—mostly from Variety, The Hollywood Reporter, and the Los Angeles Times—into ones about content, the market, and the industry, from 2011 to now.
She says of Llamas-Rodriguez, "I like how much independence and choice that he's giving me, and he asked me what is the thing I find the most interesting in this article, and I said how much subscriber numbers are changing." So, he had her gather information about estimated Netflix subscribers since 2017, which she says was difficult due to conflicting reports.
Gesheva was also particularly fascinated by the shortening of TV shows, mirroring the American trend of seasons dropping from 24 episodes to 13 or eight.
Beyond the summer, the next phase is having students watch shows to look at trends in narratives and characters, and Llamas-Rodriguez says the plan is for Gesheva and Hudson to continue with the project if they're able. In addition to the updated dossier, he says, the second outcome of the project will be an academic article on the sociocultural significance of Netflix original shows in Mexico.
Changes and status quo
The arrival of Netflix in Mexico "became a big moment of rethinking. What is Mexican television going to look like now?" Llamas-Rodriguez says. "In the years since, it's only become more of a big player, producing a lot more original content and moving the Latin American headquarters of Netflix to Mexico City, which used to be in LA, so I've been tracking that over the last several years."
Part of his interest has been in trying to figure out how streaming originals differ from older broadcast content, like the melodramatic telenovelas he watched with his grandmother growing up. Some streaming shows still follow the beats of classic telenovelas, like a "guilty pleasure" Llamas-Rodriguez' watches on Netflix, "¿Quién mató a Sara?" ("Who Killed Sara?").
"A lot of the Netflix melodramas mimic a lot of the tropes of telenovelas," he says, "but I think aesthetically, they mimic a lot of what we in the U.S. call 'quality TV'—or the cable drama as well—and that look of having antiheroes as the protagonists, of making sure the pace of it is a lot slower and more contemplative."
Another one of his guilty pleasures is "Ingobernable," a Netflix political thriller following a fictional first lady of Mexico on the run after her husband is murdered. Premiering in 2017, it was Netflix's second original series for the Mexican market. The show stars Kate del Castillo, an actor infamous for her communication with drug lord Joaquín "El Chapo" Guzmán. Llamas-Rodriguez has written about "Ingobernable" and about del Castillo's relationship to El Chapo.
An interesting change he has seen and written about in Mexican and Argentine streaming series is the portrayal of famous singers, athletes, and politicians, which broadcast networks would not have greenlit.
"They don't want to be implicated if that history is somehow related to themselves and the role they played," he says, and "they probably rely more on getting permits from the government, so they also don't want to be upsetting those kinds of relationships."
Llamas-Rodriguez has felt encouraged by the growing inclusion of openly queer characters, but he is struck by how much the racial politics have not changed, despite lip service.
"There's an overrepresentation of people with light skin in all of these shows, and it's an intersection of both light skin and wealth, so most of the characters are middle class, upper class," he says, with little focus on characters from working-class backgrounds. An exception is HBO's "VGLY," about a group of poor teenagers in Mexico trying to make it in the Latin urban music world.
"The imagined audience of the Netflix shows is still that middle, upper-middle class audience, and so the implied assumption is they want to see themselves in those shows," Llamas-Rodriguez says. He says when shows began 10 years ago, "there wasn't enough broadband internet for a lot of families to be able to stream. I think that is rapidly changing in the last few years, but yet the content itself hasn't really caught up to those realities."