Philadelphia's Media Ecosystem is Broken. Can We Fix It?
The MIC Center and its collaborators have received a $2.6 million grant to try.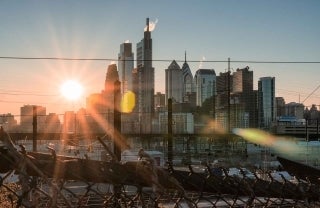 With increasing public attention focused on threats to the integrity of our news and communication systems, it is vital that we take stock of Philadelphia's media ecosystem, assess its strengths and weaknesses, and imagine how we can reinvent journalism for a stronger democracy.
To this end, the Media, Inequality and Change (MIC) Center — a joint project of the Annenberg School for Communication at the University of Pennsylvania and the School of Communication and Information at Rutgers University — along with Media Mobilizing Project and Free Press, have received a $2.6 million collaborative grant from Independence Public Media.
There are many practices and structures that shape a media ecosystem: decisions about what is newsworthy, how reporters build and prioritize relationships with community organizations, how stories are told and by whom, the ownership and control of newsrooms, and the metrics outlets use to determine a story's value, just to name a few.
With local newsroom numbers decimated and traditional advertising models continuing to fail, the MIC Center hopes to identify new models for media that enable communities to be engaged in shaping and lifting up narratives that better represent them and address important social problems.
The three-year collaborative project with Media Mobilizing Project and Free Press aims to address these issues by understanding how social change happens, the media's role in creating obstacles and opportunities for structural reform, and what innovative, community-centered media and media-making can and should look like in the Philadelphia region.
Led by co-directors Annenberg Professor Victor Pickard, a Free Press board member, and Rutgers Professor Todd Wolfson, a Media Mobilizing Project board member, the MIC Center will:
provide a political economic analysis of Philadelphia's media ecosystem;
assess how the city's media institutions develop influential narratives;
seek to analyze and elevate community-driven narratives on inequality, violence, crime, safety, and other important issues;
help craft discursive strategies and practices that both Philadelphia newsrooms and communities can adopt and that can be replicated in other cities; and
offer a forward-looking vision for how urban media can be reorganized and restructured in a moment of systemic failure.
The MIC Center and its partners aim to organize with both communities and newsrooms toward better serving local communication needs. Their hope is to create alternative models for how local news and information are produced. Moreover, they intend to collaborate and learn from researchers, practitioners, and organizations engaged in similar work in other locations, both domestically and internationally.
Ultimately, this project's goal — and one of the MIC Center's guiding missions — is to outline a vision for remaking media in ways that reflect communities' information needs, especially around vitally important social issues such as inequality and criminal justice.