Professor Emily Falk Named Vice Dean of the Annenberg School for Communication
In this newly-created role, Falk will help to foster and showcase the school's research.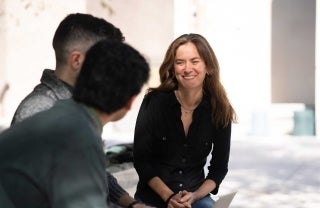 Beginning today, Professor Emily Falk will be serving as the Vice Dean of the Annenberg School for Communication at the University of Pennsylvania.
An interdisciplinary scholar whose research spans the fields of Communication, Psychology, Marketing, Operations, Information, and Decisions, Falk will work to  unify the community in the school's mission to produce innovative and impactful research.
"One of my priorities as the School's new Dean is to find ways to foster genuine collaboration, both at Annenberg and at other units and institutions within Penn, so that the whole of our impact can be greater than the sum of its parts," says Dean Sarah Banet-Weiser. "Emily has accomplished so much in her time at Penn — in the volume and collaborative nature of her brilliant research, the thoughtful mentorship of students and junior scholars in her lab, and in her strong presence at the School." 
Falk is the Director of Annenberg's Communication Neuroscience Lab, which uses fMRI and brain science to help people live healthier and happier lives. She is also  a Distinguished Fellow at the Annenberg Public Policy Center (APPC).
Her research has been recognized by numerous awards, including honors from the International Communication Association, the Society for Personality and Social Psychology Attitudes Division, a Fulbright grant, the Social and Affective Neuroscience Society, a DARPA Young Faculty Award, and the NIH Director's New Innovator Award.
Since 2021, Falk has served as the Associate Dean of Research at the School, where she led a staff committee in finding new ways to foster and facilitate research, as well as amplifying it to a broader public.
 As Vice Dean, Falk will work with Dean Banet-Weiser to help faculty, students and staff maximize their impact across many of the School's areas of strength, including cultural inquiry, health communication, policy and political communication, and computational social science. 
"We hope to identify areas where additional resources would allow our faculty, staff and students to push the frontiers of knowledge, engage more deeply with our communities, and broaden the ways we generate knowledge in the first place," says Falk.  
Another of Falk's objectives will be to grow the Climate Communication and Action Division in collaboration with APPC, which will further integrate climate action into the School's research agenda, aligning academic pursuits with global challenges.
"I look forward to working with Dean Banet-Weiser to realize her vision for showcasing Annenberg's major areas of strength," says Falk. "We will continue to spotlight our faculty's research accomplishments while fostering greater synergy among those working in similar areas. Our goal is to catalyze new possibilities and support members of the community to do the best work we can, individually, and collectively."