Tyler Leigh Receives 2022-23 Graduate Student Fellowship for Teaching Excellence
The fellowship is designed to help graduate students develop as teachers.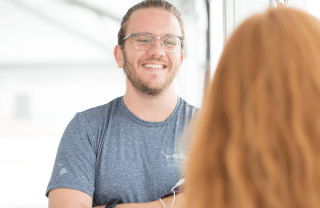 The Center for Teaching and Learning (CTL) at Penn has awarded doctoral student Tyler Leigh a 2022-23 Graduate Fellowship for Teaching Excellence.
Leigh is a joint Political Communication doctoral candidate in the Annenberg School for Communication and the Political Science Department at the University of Pennsylvania.
CTL Graduate Fellows are nominated for their teaching excellence by their schools or departments and then chosen in a highly selective process by CTL from a strong pool of university-wide nominees. Between 10 and 14 fellows are typically chosen each year.
CTL's Graduate Fellowship for Teaching Excellence program honors graduate students who are dedicated to excellent teaching and is designed to foster conversations about teaching in order to help graduate students develop as teachers. Graduate Fellows organize and facilitate teaching workshops in their departments and across the university, observe graduate students teaching and offer feedback, and meet regularly as a fellows group to discuss teaching practices.
At Penn, Leigh has served as a teaching fellow for PSCI230: American Democracy and Public Opinion as well as PSCI338: Statistical Methods for Political Science. In the summers, he teaches a Penn Summer Prep course called "Fantastic Politics" that connects fantasy and science fiction worlds — like those in Star Wars or The Hunger Games — with contemporary political issues.
"I'm excited to be spending time as a fellow thinking about teaching and helping other Annenberg grad students refine their own teaching styles," Leigh says. "I care a lot about helping undergrads develop the skills that they need to succeed in life after college, and I'm looking forward to having some productive conversations about how we can do that."
Leigh's research focuses on how popular social media platforms contribute to political polarization and other forms of conflict in US politics. Currently, he is working to show how social media platforms contribute to different forms of political polarization and how recent changes to the media environment are decreasing support for the right to free speech.