Annenberg Presentations at NCA 2019
We've compiled a helpful list of all presentations being given by Annenberg authors.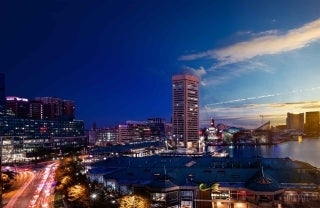 Eight Annenberg faculty members and graduate students will present at the National Communication Association's 105th Annual Convention, to be held November 14-17 in Baltimore. The presentations are listed below, along with locations.
Thursday, November 14
9:30-10:45am
The Effects and Prevention of Smoking, Vaping, and Chewing (Hilton Baltimore, Key Ballroom 12)
Joseph N. Cappella — "Effects of Exposure to Vaping Cues in First-Generation and Other-Generation E-Cigarette Advertisements on Daily and Former Smokers' Urge, Intentions, and Perceptions"
Examinations of Regionalism and Discriminatory Ideologies (Baltimore Convention Center, Room 335)
Mohammed Salih — "Saviors are Coming in the Film: Iran, IS and Regional Hegemony"
12:30-1:45pm
Understanding the Importance of Perception in Different Political Communication Contexts (Baltimore Convention Center, Room 343)
María Celeste Wagner — "The Reception of Fake News: The Interpretations and Practices that Shape the Consumption of Perceived Misinformation"
Friday, November 15
8:00-9:15am
Rhetorics of Survival within a Trump Presidency (Hilton Baltimore, Key Ballroom 10)
Jeanna Sybert — "Donald Trump's Rhetoric of Crisis and Blame in the 2019 Oval Office Address"
(Post)Human Tensions (Hilton Baltimore, Douglass Room)
Andrew Wirzburger — "Whose Perspective? The Productive Censorship of A.I.-Assisted Comment Moderation"
2:00-3:15pm
Fifty Years of Student Speech: Student Activism from Tinker to Parkland (Hilton Baltimore, Tubman Room)
Carolyn Marvin — Presenter
Saturday, November 16
9:30-10:45am
Communities of Survival: Applied Communication and Experiences in a Diverse Collection of Groups (Baltimore Convention Center, Room 342)
Soojong Kim — "Network Backfire Effect: Enhanced Network Heterogeneity Can Exacerbate Perceived Information Bias in Social Media"
3:30-4:45pm
Embodying and Materializing Burkean Rhetoric (Hilton Baltimore, Blake Room)
Kinjal Dave — "Technologizing the Imaginative: Rhetorical and Material Consequences of CT Scanners in Hospitals"
Sunday, November 17
9:30-10:45am
The Adoption and Effectiveness of Technology-Based Health Promotion (Hilton Baltimore, Key Ballroom 6)
Kwanho Kim — "Applying the Integrative Model of Behavioral Prediction to Identify Predictors of Health Apps Use"