International Call for Applications: Postdoctoral Fellowship, Center for Advanced Research in Global Communication
The Center for Advanced Research in Global Communication (CARGC) is accepting applications for a "CARGC Postdoctoral Fellowship." Submit by February 1, 2023.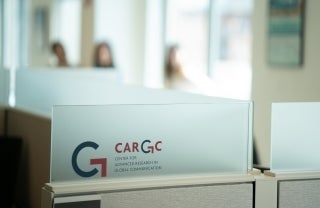 The Center for Advanced Research in Global Communication at the Annenberg School for Communication at the University of Pennsylvania invites applications for a "CARGC Postdoctoral Fellowship." This is a one-year position renewable for a second year based on successful performance.
Overview
The Center for Advanced Research in Global Communication (CARGC) produces and promotes scholarly research on global communication and public life. Our work brings together "area studies" knowledge with theory and methodology in the humanities and social sciences to understand how local, lived experiences of people and communities are profoundly shaped by global media, cultural, and political-economic forces. This synthesis of deep regional expertise and interdisciplinary inquiry stimulates critical conversations about entrenched and emerging communicative structures, practices, flows, and struggles.
We explore new ways of understanding and explaining the world, including public scholarship, algorithmic culture, the arts, multi-modal scholarship, and digital archives. With a core commitment to the development of early career scholars worldwide, CARGC hosts postdoctoral, doctoral, undergraduate, and faculty fellows who collaborate in research groups, author CARGC Press publications, and organize talks, lectures, symposia, conferences, and summer institutes.
Ongoing research groups focus on media, migration, and diasporas; media environments and the climate crisis; media industries and cultural politics; and media history and theory. We recommend that applicants familiarize themselves with CARGC's mission and research activities listed on our website. We are particularly interested in candidates whose work centers on the Global South.
Fellowship Details
CARGC postdoctoral fellows work on their own research while also participating in and leading ongoing research projects within CARGC. During the fellowship, they present their work as part of a postdoctoral colloquium and work closely with the Senior Research Manager on a plan for publishing their research. There are limited opportunities for teaching that are decided in consultation with Associate Dean for Undergraduate Studies.
Fellows are provided a stipend of $60,000, a research fund of $3000, individual health insurance and dependent coverage, a workspace and a computer in CARGC's office, and library access. In addition, CARGC will cover $1000 in domestic relocation expenses and $2000 if moving internationally. Please note all postdoctoral fellows must submit documentation to demonstrate eligibility to work in the United States. Non-US citizens selected for this position will be required to apply for an appropriate US visa. CARGC will provide the necessary supporting documentation and cover the SEVIS fee.
This is a residential fellowship. CARGC strives to be an inclusive community of scholars driven by intellectual curiosity and exchange rooted in the life of the Annenberg School, the University of Pennsylvania, and the city of Philadelphia. To foster mentoring and collaboration at all levels, we expect fellows to be fully engaged in the life of the center. Postdocs are therefore expected to work at our beautiful sixth-floor premises on the Penn campus.
Eligibility
We welcome applications from early career scholars with Ph.D. awarded by an institution other than the University of Pennsylvania. The appointment typically starts on August 15.
Submitting Your Application
A complete application consists of:
Cover Letter – Please include a section explaining how your research aligns with CARGC's mission, fits with one or more CARGC research themes, and contributes to the field of global media and communication studies.
Research Statement - In no more than three double-spaced pages, please explain your core research interests and how you plan to build on your dissertation research. Include research questions, topic significance, theoretical framework and methods, clear description of primary sources and necessary language skills, and a tentative publishing plan.
CV (not to exceed three pages) – Please list degrees, peer-reviewed publications, academic non-peer-reviewed publications, public scholarship, invited talks, conference papers, other relevant qualifications, and specific research and language skills.
References – Please provide names and contact information for three references (including that of your dissertation supervisor). If your application is shortlisted, we will get in touch with your referees in mid February 2023. Please make sure your advisors/supervisors are aware of this timeline.
One peer-reviewed publication – Please include a published peer-reviewed journal article or a chapter published in an anthology/edited collection. An article/chapter accepted for publication and forthcoming is acceptable (but not work that is under review).
Timeline
All materials must be sent as a single PDF document to cargc@asc.upenn.edu by February 1, 2023. Because of the volume of applications, we are unable to read drafts of submissions. Incomplete or late applications will not be considered. We expect to contact finalists for Zoom interviews by the end of February and make final decisions shortly thereafter.
Additional Information
If you have additional questions, please email us at cargc@asc.upenn.edu. Kindly do not contact CARGC staff or the CARGC director individually.
The University of Pennsylvania is an affirmative action/equal opportunity employer. All qualified applicants will receive consideration for employment and will not be discriminated against on the basis of race, color, religion, sex, sexual orientation, gender identity, creed, national or ethnic origin, citizenship status, age, disability, veteran status, or any other characteristic protected by law. For more information, go to Penn's Office of Affirmative Action and Equal Opportunity Programs.