Jamieson's Doctoral Students Meet Power Players in Washington, D.C.
The course focuses on the role of rhetoric in politics, elections, and government.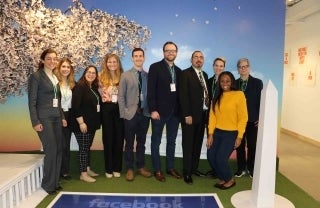 Last month, Professor Kathleen Hall Jamieson traveled with doctoral students in her COMM 710: Rhetorical Criticism course for a daylong series of meetings in Washington, D.C. The field trip provided a firsthand experience of the course's two themes: (1) the relationship between the rhetoric of presidential campaigns and the rhetoric of governance and (2) the rhetorical role of biography, age, race, and gender in the construction of a candidate's political identity.
The group — which included graduate students Lauren Bridges, Zane Griffin Talley Cooper, Arlene Fernández, Natalie Herbert, Helene Langlamet, Jeanna Sybert, Diami Virgilio, and Andrew Wirzburger — met with six communication professionals who work in politics, public affairs, and journalism.
Their day began by meeting with Jannelle Watson, who works in politics and government outreach for Facebook, and talking about crisis management with Anita Dunn, managing director of the public affairs agency SKDKnickerbocker and former White House communications director and senior adviser to President Obama's presidential campaigns.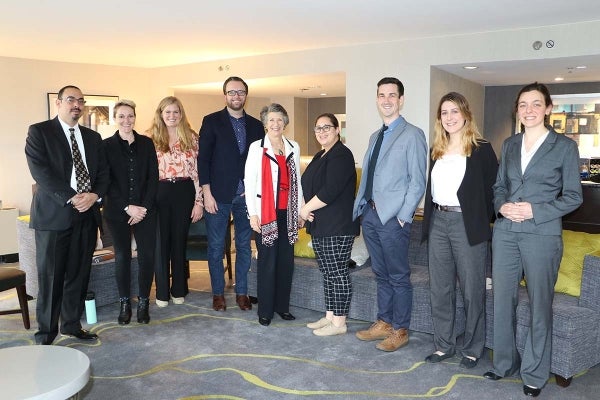 Next, the group spoke with Donna Brazile, political strategist and former Democratic National Committee interim chair, about her transition to working at Fox News as a contributor, and with Annenberg Public Policy Center (APPC) distinguished fellow Susan Ness, a former Federal Communications Commission member, about her latest work as director of the Transatlantic Working Group, an APPC project examining and seeking to reduce online hate speech, terrorist extremism, and viral deception.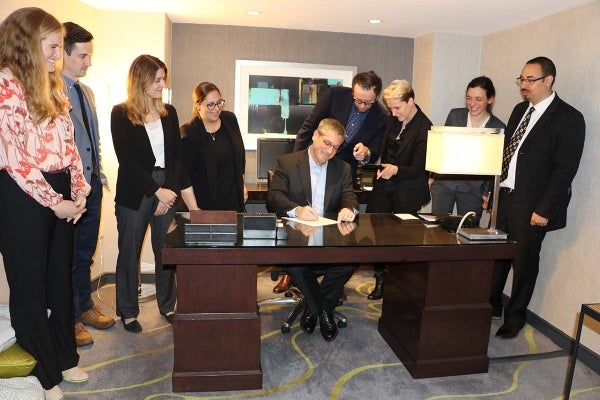 In their final sessions, the students got to pick the brains of two Annenberg alumni: Paul Waldman (Ph.D. '00), an opinion writer for the Washington Post and senior writer at the American Prospect, and Alex Slater (M.A.C. '03), founder and chief strategy officer for the Clyde Group.