Penn and USC Launch Annenberg Center for Collaborative Communication
The Center is a first-of-its-kind joint venture between the two Annenberg Schools.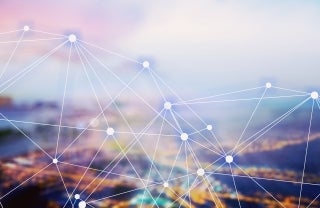 At a time when tackling the world's biggest challenges demands ambitious collaborations, two of the preeminent schools for communication and media studies — the University of Pennsylvania's Annenberg School for Communication and the USC Annenberg School for Communication and Journalism — have jointly established the Annenberg Center for Collaborative Communication to enable their faculties and doctoral students to think and work across institutional, geographic, and disciplinary divides.
The first-of-its-kind center will provide a critical infrastructure for reimagining and potentially revolutionizing how communication can be used to address complex issues such as health care, data privacy, cultural and demographic change, politics, new media, gender and racial equity and justice, media literacy and policy, journalistic trust, and the restructuring of media industries in an evolving age of streaming and networked distribution.
USC Annenberg Professor of Communication Sarah Banet-Weiser — a leading scholar in feminist theory, race and the media, youth culture, popular and consumer culture, and citizenship and national identity — will serve as the center's inaugural director. In this role, working closely with faculty and doctoral students from both schools, she will shape the center's vision and goals and map out its future direction.
On July 1, Banet-Weiser will also join the faculty of the Annenberg School at Penn, becoming the first person to be appointed by both schools. She will teach courses at Penn and USC.
Annenberg Penn Dean John L. Jackson, Jr. and USC Annenberg Dean Willow Bay note that the center's aim encapsulates the enduring vision of the schools' founder — Ambassador Walter Annenberg — who foresaw the centrality of communication to understanding the profound changes society faces. The center, they said, will build on the important work of uniting the skills, research, and intellectual vision of the two educational institutions he founded.
"Our founder and his daughter, Wallis Annenberg, have supported every opportunity for the two schools that bear their name to promote innovative enterprises that advance the public good through improved communication," Bay said. "Under Professor Banet-Weiser's leadership, this center will urge our faculty and doctoral students to not only explore entirely new ways of working together, but to break down institutional boundaries that may slow down transformational social change."
Jackson added that Penn and USC are ideally poised to help solve society's most vexing problems.
"This collaboration puts us in a unique position to address emerging global issues at a time when convergence and crisis, proliferation and disruption, challenge our world in unprecedented and unpredictable ways," Jackson said. "From industries to information, from culture and creativity to big data and networked media, from justice and empowerment to crises of media distrust and political polarization, there has never before been a greater urgency for scholars to engage."
Banet-Weiser said she hopes to use her position as director to leverage the expertise and intellectual firepower of both schools.
"I want us to ask big questions about the future of communication and media, the impact of that future on the questions that matter most, and the most cutting-edge ways to educate our doctoral students interested in posing critical questions that anticipate media worlds yet to come," she said. "I can't wait to see what our collaborative strengths can accomplish."
Banet-Weiser said potential areas of programmatic effort may include:
Collaborative research studies pairing faculty from both schools, as well as formalized interschool mentorship pairings for early-career scholars
Joint annual symposiums organized around a specific theme, such as media policy or disinformation, and featuring collaborative research presentations
A joint practice professorship that provides additional opportunities for intellectual exchange and partnership across the curriculum
A joint M.A. program focused on a common research/theoretical area such as health communication, cultural studies, or media policy that would draw upon distinct strengths of each institution to offer a more robust curriculum and diverse student experiences
A methods summer school co-hosted by each institution that could strengthen the methodological sophistication of doctoral students at both schools
Expanding the Annenberg Summer Institute on Diversity in Media and Culture for doctoral students across the country to think critically about how communication-related concerns inform and impact issues of diversity and inclusion
A "study abroad" program in which doctoral students could reside for a semester at the other school, giving Penn students an opportunity to be closer to media and cultural industries in Los Angeles, and USC students an opportunity to be closer to political communication and news industries in Philadelphia, New York City, and Washington, D.C.
The Annenberg Center for Collaborative Communication will officially launch under Banet-Weiser's leadership on July 1, 2021. Read more about Banet-Weiser and her research.