Center on Digital Culture and Society
Drone Radicals: An Interview with Drone Oceanographer Dr. Vanessa Pirotta
Drone Radicals: An Interview with Drone Oceanographer Dr. Vanessa Pirotta
By Adam Fish, July 20, 2020
Digital Radicals range from Silicon Valley entrepreneurs to networked activists in Hong Kong and hardware hackers in Berlin. This interview is with Dr. Vanessa Pirotta, an Australian marine biologist using drones to check the health of endangered whale populations. This is important, radical research that applies digital tools to endangered species conservation. Her research expands our notion of who the recipients of digital scholarship are—which, with few exceptions, have been anthropocentric. In this case, humpback whales are potential beneficiaries.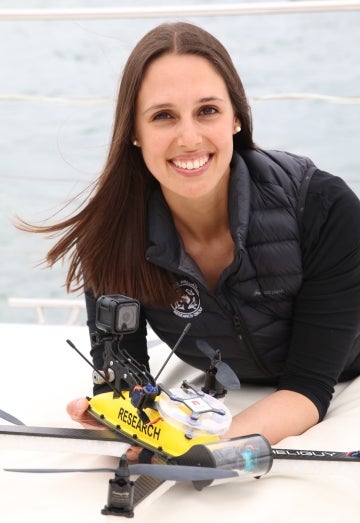 The oceans are the source of life on Earth, and they are in a crisis. Sixty-six percent of the sea is severely degraded with 33% of corals (Anthozoa), sharks (Selachii), and marine mammals threatened with extinction. By 2050, the ocean ecosystem may collapse. Great whale populations have fallen by between 66% and 90%. Killer whale (Orcinus orca) populations in the Puget Sound have hit a 30 year-low. This is not only a loss of key species but of human livelihood. Whale tourism generates over $2 billion, and marine tourism and fishing create $375 billion worldwide. The seas are essential to life on Earth, and their health is at a critical juncture.
We humans must ask ourselves how our sensing technologies can change the demise of the Earth's oceans, extend sustainable managerial approaches to marine species, and form new relationships between the sea and culture.
Unpersonned aerial vehicles or drones are revolutionary, cost-effective, safe, and robust tools for marine species population, behavior, and health assessment. Drones monitor the health of a variety of surface-visible marine species of coral, sharks, and whales (Cetacea).
For the last two research seasons, Vanessa and her colleagues have flown drones through whale exhale (a visible plume of spray) to collect lung biological material for health evaluations. Vanessa has led pioneering research to develop waterproof drones for this project, and she has worked in Australia, Tonga, Antarctica, and Madagascar. I spoke with Vanessa about her research. This is an excerpt from our discussion.
Adam:
Tell me about how you got started using drones in your oceanography.
Vanessa:
I went to this one-day workshop and it was just basically a room full of predominantly males talking about how they're using drones to look at whales. I remember being one of the very few females. I find the use of emerging technology super amazing and a great opportunity for non-invasive work. That was always at the back of my mind. Then, when I entered for my Ph.D., I was reading widely and learning about some of the impacts, learning about species, and becoming more aware of the potential avenues I could go down. I still had this emerging technology theme in my mind. It was always generating in me.
Adam:
So, how did you get bring together your passion for oceanography and technology?
Vanessa:
At the time, I was spending a lot of time with some of my friends in Sydney who owned a boat. They were also underwater cinematographers and aerial cinematographers which is convenient. I was offshore one day with my mate who's also a drone pilot and engineer and the owner of the boat. He's actually a professional cameraman and producer. I kept speaking about drones and their appliance and what we could learn from whales. Through my research, I was looking at the collection of whale health information, and I knew people were collecting whale poo, which was awesome.
Adam:
Right. But how did you get from whale poo to drones?
Vanessa:
After watching whales, you could see their blow was quite a prominent thing. I was working, living, and breathing whales and I kept speaking to this engineer, Alastair Smith from Heliguy Scientific, about why don't we collect whale snot like whale lung microbiota?
Adam:
Really? That is wild. What is the precedent for this type of research?
Vanessa:
Yeah. My budget at university was very limited. I was seeing what other people were doing in photogrammetry and they were basically flying $10,000 drones over whales and measuring their body. I didn't have the budget. I couldn't do it. So, I basically collaborated with my mate, Alistair, who's now a really good colleague of mine. I spoke with him, and together we came up with this idea of designing a drone that was low cost that we could build and that would collect whale blow. I'll set the scene for the first day. I remember this clear as day. We all head to the vessel in the morning, about 7am. It's a cold winter's morning; this is perfect for the northward migration off Sydney. We all put our life jackets on; we've got the vessel warming up, the engines are warming up. We've got the drone prepared; at this stage we only have one drone because we've not created our second prototype yet. We drive under Sydney Harbor Bridge; we've got the opera house on our right hand side. We enter through Sydney Heads. I called my friend Wayne Reynolds, who was down at Cape Solander. He continues to spot whales, so I go down and volunteer sometimes to count whales with him. I call Wayne, and I ask him if there's any whales around, and he tells me where there's been whales sighted, so we're keeping that communication up.
Adam:
Brilliant. So you are coordinating with land observers. Where are you now?
Vanessa:
Now our boat ends up off Bondi Beach, and we see this whale. It's only one single whale. We hadn't ever collected a whale sample before, and we see this whale, and we decide to launch the drone. Everyone's safe. Alistair launches the drone up into the air with a fresh Petri dish. The whale is over 200 meters away, and that's what's so good about using drones. You don't have to be close to whales. That's why I love it. It's so much safer. The boat is nowhere near the animal. The drone is launched into the air; we all have the licenses, animal ethics, etc. We've got our research flag up. I've done everything right on my end. Now it's up to Alistair and myself to spot the whale. At this stage, Alistair was learning a lot about whale behavior, so I was helping him.
Adam:
Can you tell us more about Alistair?
Vanessa:
Remember, this guy's an expert drone pilot. He's very much in tune with animals, but when it came to whale behavior it was very tricky to track a whale that you can't see.
Adam:
Ok, then what happened?
Vanessa:
I spotted the whale; Alistair flew out to the whale. I kept line of sight of the drone the entire time. Alistair kept looking through a camera at the front of the drone so you can see what the drone sees. We also have another camera at the back of the drone so we can see if our sample that we've collected is good or not. That's for sample validation. Then I remember we were in position and I was seeing it happen. I could see Alistair was right above the whale. I remember him saying to me, "I can actually see the whale underwater." Then, the moment happened when the whale took a breath and then it swam underwater and it took another breath. It's enough for you to line the drone up and to get into position. It was about the second or third breath that Alistair said, "I'm going to sample. I'm going to go in for it." He lowered the drone, he opened the Petri dish, and flew right in. I could see it happening as I was watching the drone do that and also looking back to his camera.
Adam:
Sure. And did you get anything?
Vanessa:
The Petri dish was covered in whale snot. Once we collected that sample, Alistair and I both were cheering. Alistair was still very focused because he had to fly the drone back to the boat. I sat cheering and I think I started crying because we had collected our first sample. It all became a reality. He landed the drone back on the boat and we all just celebrated. We essentially at that stage had a whale sample collected.
Adam:
Wow. Then what do you do with this whale snot?
Vanessa:
I quickly covered the sample and we had our first sample in the bag. It was so exhilarating. It was the moment after all these years of hard work and coming together. As a small team we didn't buy drones off the shelf, we created and designed and built our own drones. This drone came together through different ways and we collected our first sample. It wasn't the best sample, but we showed that we could do it.
Adam:
When did you analyze it? The next day, or how long does it take and what's in it?
Vanessa:
The problem with our samples was that we didn't have enough sample on the dish. Although a whale has a lung capacity of over 1000 liters, there was just not enough of the sample to make anything of it. This is something we had to learn.
Adam:
Sounds like a successful prototyping session, however. When did you apply what you learned?
Vanessa:
We did a little more flying that year, and Alistair is flying and his learning of whale behavior just accelerated. We went back to the drawing board and refined our drone for the next season. This is where we really got serious. Alistair built two drones. We were all ready to go. We're super serious this next time around, this next season. We had the boat in order, we had our checklist, we had our ethics, we had everything in order and 2017 is when we really hit the sampling hard. Again, I was contacting Wayne on the mountain to key us up to when he saw whales south and we were getting in position. With this equipment, we went out for a couple of days of sampling, we got everything in play, and it all was the pinnacle of our research. We were sampling like a pit crew, a racing car pit crew that is how Alistair describes it.
Adam:
Oh my god. How many flights were you doing?
Vanessa:
We're doing flights of less than a minute at a time because the whales were coming towards the boat. We're flying out, collecting samples, replacing the Petri dishes, flying out, collecting samples, repeating it. Thankfully, our efforts, we worked so hard and we got a huge number of samples for both the bacteria side of things and also the virus side of things. I think one of our best days was over 40 samples.
Adam:
Are you kidding me?
Vanessa:
No. I'm not. Yeah. We did really well.
Adam:
Wow. Alright.
Vanessa:
We got really efficient with it. At the end of the day, preparing for the field is quite taxing because I had to make sure I had all the sterile stuff, I had everything that was, we had a minus 80 freezer on board for the viruses, we had a fridge for the bacteria. We had it down pact. At the end of every day, I was going from the field into the laboratory to swab all our samples and to put them into the freezer, the minus 80 degrees, to make sure they were stored properly. It was actually one of the hardest times I've ever worked in my career, doing this kind of thing. It was so rewarding.
Adam:
In terms of methodological innovation, what is the take-away?
Vanessa:
We had worked out a protocol of how to successfully extract the bacterial DNA which I worked a lot in the laboratory to do. It was also a stressful time because I remember the kit that I was trying to get, the extraction kit was delayed. I was actually getting a bit nervous because I was wanting to publish this work because I was so proud of it and I was getting really stressed about timing. I wanted to have this paper and try to get it out.
Adam:
Sure. I understand. The pressures of academic publishing and science. How about the gene sequencing?
Vanessa:
It all came together. Because I was so persistent and I tried to make sure that I had everything in line, I did the DNA extraction, and then I sent off our samples to be sequenced, next generation sequenced. That was the paper that came out and I was so happy with that because it was literally documenting out work in the literature.
Adam:
Do you think that the research has any applied or management or conservation applications?
Vanessa:
Absolutely. The ability to collect baseline lung bacteria is the first step in a number of steps. The ability to work out what is representative of living, free-swimming humpback whales is a first start. We can then compare that with fecal potentially compromised other whales where their health is compromised. This is also going to potentially act, if we can do consecutive sampling, as a potential to look at changes in population health over time as well as with the virus component. The viruses enabled us to detect viruses that were associated with different parts of the marine environment such as Antarctica. Essentially on a microscopic level, these whales are capable of carrying information from different parts of the marine environment that we are able to sample. Also, the fact that we were able to collect viruses via our drone was a world first.
Adam:
If this work was to be acted upon, would it be a federal agency that would incorporate some of this scientific insight into their policy recommendations and what would those policy recommendations mean or potentially do?
Vanessa:
Well, I think it would depend. I think that's a great step. I think it would depend on the species. This comes down to which animal needs conserving more. Who's in need of conservation help. The reason that we did this work on humpback whales is because there was a lot of them and they were a great study species. My next application for this would be to apply this to animals or populations that we know are not recovering post whaling, that is your North Atlantic Right Whale, and in our case down here the Southern Right Whale, which would be great to see if these animals, sample animals would be more worthy of conservation efforts.
Adam:
Could your approach help other whale species?
Vanessa:
For example, you have a lot of people studying killer whales around the world and a lot of people studying humpback whales around the world. In my opinion, depending on which population, an animal like the North Atlantic Right Whale is more worthy of conserving than an animal that's very abundant so to speak.
Adam:
What would regulation or laws to protect the right whale for instance look like?
Vanessa:
Maybe it would have a component of scientific monitoring, so health monitoring using drones which might be a suggestion. I have flown drones over right whales before but I don't know how the animals might respond to our drone and the proximity that it's flown. That would be initial testing would probably be a recommendation.
Adam:
But don't the whales react to the drone?
Vanessa:
Our animals showed no behavioral response to the drone, showing they either knew the drone was there and did nothing or they didn't even know it was there at all. Also, people have done acoustic research on drones to see if the acoustic presence of drones is likely to have an impact on whales, and they found it wasn't significant. There's a number of different factors when implementing. It would need a big discussion with drone experts and also, I think it's a step forward because emerging technologies are so much more accessible. It's so much safer than driving up to a whale with a pole and holding it over their nose.
Vanessa's publications include:
Geoghegan, J.L., Pirotta, V., Harvey, E., Smith, A., Buchmann, J.P., Ostrowski, M., Eden, J., Harcourt, R., & Holmes, E.C. (2018). Virological sampling of inaccessible wildlife with drones. Viruses, 10(300), 1-7.
Pirotta, V., Smith, A., Ostrowski, M., Russell, D., Jonsen, I.D., Grech, A., & Harcourt, R. (2017). An economical custom-built drone for assessing whale health. Front. Mar. Sci., 4(425).
---
Adam Fish is a Scientia Fellow in the Faculty of Arts and Social Sciences, School of Arts and Media, at the University of New South Wales. He is a cultural anthropologist, documentary video producer, and interdisciplinary scholar who works across social science, computer engineering, environmental science, and the visual arts. He has authored three books including: Hacker States (2020 MIT Press, with Luca Follis), about how state hacking impacts democracy; Technoliberalism (Palgrave Macmillan 2017), an ethnography of the politics of internet and television convergence in Hollywood and Silicon Valley; and After the Internet (Polity, 2017, with Ramesh Srinivasan), which reimagines the internet from the perspective of grassroots activists, citizens, and hackers on the margins of political and economic power. His current research is based on four years of collaboration with over 70 civic drone pilots, engineers, entrepreneurs, inventors, scientists, and anti-drone activists in extreme locations around the world: e.g. volcanoes and coral reefs in Indonesia, wild elephant herds in Sri Lanka, and orca pods in the Puget Sound. The book, Drone Justice, will be published by MIT Press in 2021 and investigates how drones transform the ecologies and inhabitants of the Earth.