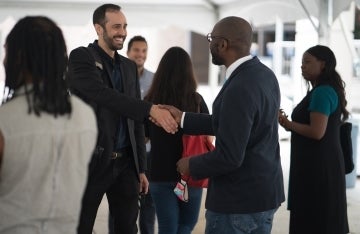 Professional Development Day 2022
September 16, 2022
9:00am-1:00pm
Annenberg School for Communication
Professional Development Day connects current Annenberg School doctoral students and postdocs with alumni representing various fields.
Professional Development Day provides an intimate setting for networking among alumni and doctoral students, giving current Annenberg students opportunities to make connections with alumni and giving alumni a way to stay involved with ASC.
Schedule
8:45am-9am
Breakfast
Room 500
Coffee, bagels, and pastries will be available for attendees.
9am–9:30am
Welcome
Room 500
Speakers:
9:30am-10:45am
Morning Keynote: The power and pitfalls of a Ph.D. in a changing economy
Room 500
This session explores how the value of a doctorate has changed over time and what doctoral students should know before they go into the job market. During this session, alumni will share the economic, political, and social changes that have intersected with the ways in which Annenberg School doctoral degrees are applied in academic and non-academic spaces.
Speakers:
10:45am-11am
Break
11am-12pm
Session 1: The future of policy — and how to develop a career as a policy advocate or creator
Location TBA
In the United States and across the globe, much of the debate around policies is centered around elected officials and politics. But the people behind the policies — including advocating for specific ones — have an even more critical role. Alumni speakers from diverse policy sectors share their thoughts on how an Annenberg degree can help prepare doctoral students for a policy career.
Speakers:
Session 2: Tips on how to form your committee
(for first years only) Location TBA
Choosing your committee members can be one of the most agonizing times of your ASC doctoral experience. Alumni speakers share what to look for in a committee member, how to balance personalities on your committee, and what you should be focused on during your committee construction process.
Speakers:
Session 3: "The one thing I wish I knew back when I was on the job market" — Alumni dish on the best ways to maximize your job search
Location TBA
Annenberg alumni frequently have "Aha!" moments about their times in the program after they've left. That wisdom can be useful for current doctoral candidates as they get ready for the job market. Alumni share lessons learned and things they might have done differently during their job search process.
Speakers:
12pm-1pm
Lunch Reception
Lunch will be available to all attendees in the Annenberg Plaza.
Disclaimer: This event may be photographed and/or video recorded for archival, educational, and related promotional purposes. We also may share these video recordings through Annenberg's website or related platforms. Certain events may also be livestreamed. By attending or participating in this event, you are giving your consent to be photographed and/or video recorded and you are waiving any and all claims regarding the use of your image by the Annenberg School for Communication. The Annenberg School for Communication, at its discretion, may provide a copy of the photos/footage upon written request.