Call for Applications: 2022-23 Undergraduate Fellowship, Center for Advanced Research in Global Communication
The Center for Advanced Research in Global Communication (CARGC) is accepting applications for two 2022-23 CARGC Undergraduate Fellows.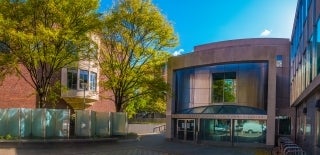 Interested undergraduate students at the University of Pennsylvania are invited to submit a short (one-page) description of your project along with a resume or bio by June 15.
Fellowship information
Undergraduate fellows at the Center for Advanced Research in Global Communication (CARGC) pursue a single research project on a subject of their choosing within the realm of global communication over the course of one academic year. Under the mentorship of CARGC's senior research manager and CARGC's postdoctoral fellows, the undergraduate fellows will build a theoretical framework and deepen archival, ethnographic, or other critical and qualitative work on an original research project. Over the course of the year, they will also present a colloquium to the Annenberg community at CARGC based on their research and publish their results as a CARGC paper. Undergraduate fellows are offered a modest research stipend ($1,500) and are encouraged to participate in events of the Center. The fellowship is an opportunity for undergraduates at the University of Pennsylvania who have already made significant progress towards an original research project in global communication to develop it into an original publication. By participating in the Center's events, fellows are exposed to and may further explore multi-media publishing, graduate-level study, and intellectual debates in global media and communication.
Please refer to an example of a previous undergraduate CARGC paper. You might also check out the CARGC 5-year report for more information about the Center and the fellowship program at all levels (undergraduate, graduate, postdoctoral). You can see bios of all the fellows via CARGC's page on the Annenberg website.
How To Apply
Please submit, applications to Dr. Jing Wang, Senior Research Manager, directly by June 15.  Please include a one-page description of a research project you would pursue at CARGC plus your resume/bio. In your description, think about both how your project fits into CARGC's purview,  and how you would utilize the resources CARGC has to offer towards your project. If you have any questions about the fellowship or would like to find out more about the opportunity, do not hesitate to reach out to Jing Wang via email (jing.wang@asc.upenn.edu).