Democratizing the Internet: Platforms, Pipes, Possibilities
A symposium held by the Media, Inequality & Change Center brought together a diverse array of thinkers to envision a more democratic internet.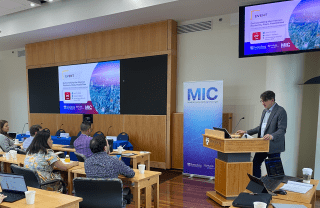 It's easy to forget how much the internet affects our daily lives. But our opinions, our health, our education, even our democracy are all heavily influenced by a global system of cables, routers, satellites, wires, and the humans who program them.
At the Media, Inequality & Change Center's 2023 symposium, "Democratizing the Internet: Platforms, Pipes, Possibilities," scholars and activists from across the U.S. came together to share ways to make the internet as democratic as possible, whether that's through fair access to broadband, equitable digital platforms, new approaches to commerce, or brand new ways of communication.
Getting America Online
More than 20 million Americans do not have access to reliable, high speed internet at home. And as the pandemic has shown, the U.S. relies on the internet for a lot of things, from public schooling to telehealth visits.
At the symposium, panelists discussed the many ways U.S. citizens are blocked from getting online, whether that's through a lack of physical infrastructure or prohibitive pricing from telecom giants, and shared some examples of how citizens are getting themselves online.
For example, in mountainous Vermont, it's estimated that 60,000 households do not have access to reliable internet. 
To solve that problem, towns are bonding together to create regional broadband service providers and building and maintaining the networks themselves, said Revati Prasad (Ph.D. '20), Director of Research and Fellowships at the Benton Institute for Broadband & Society, who is researching the 10 collectives in Vermont creating these networks.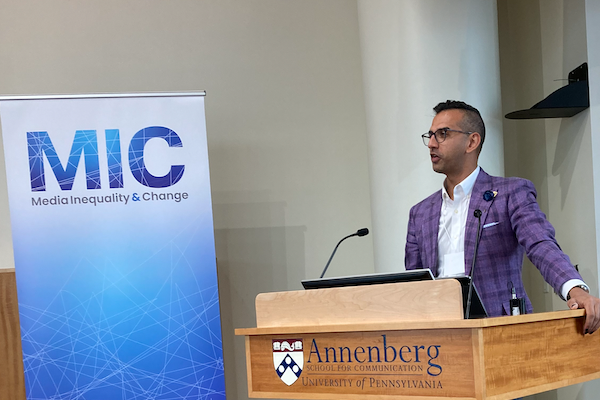 Christopher Ali (Ph.D.'13), Professor of Telecommunications at Penn State, discussed the $65 billion the government has recently dedicated to providing Americans access to broadband, positing that the U.S. government should draw inspiration from the Rural Electrification Administration (REA), a New Deal agency created to bring electricity to rural communities
Sascha Meinrath, Palmer Chair in Telecommunications at Penn State, and Hannah Sassaman, executive director of People's Tech Project, discussed two decades of work in fighting for broadband access in the U.S., efforts to get Comcast to expand its subsidized broadband program, and hopes for the new Pennsylvania Broadband Infrastructure Program.
Ads, Networks, and Capitalism
The afternoon's discussion focused on the evolution of advertising on the internet and ways to create inclusive, collaborative communities on platforms that don't seem to want them to exist.
"Surveillance is the lifeblood of the digital economy today," said Sandeep Vaheesan, legal director at the Open Markets Institute.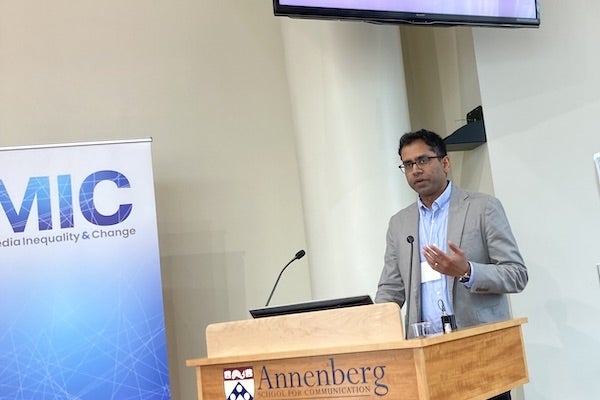 Vaheesan, who studies antitrust law and policy, argued that targeted, surveillance advertising "perfected by Google and Facebook," needs to be recognized as unfair competition by the Federal Trade Commission. A local newspaper wanting to run an ad for a local store could never compete with the trillions of ads served up by Google based on one's every click and query, he pointed out.
Nathan Schneider, Assistant Professor of Media Studies at University of Colorado Boulder, spoke about the politics of power on the internet.
"There's really just one way that power tends to flow online in our intimate online spaces — down," he said.
He has been experimenting with ways to create democratic spaces online that encourage self-governance and collaboration and hopes this will lead to more online communities founded on egalitarian values.
Charlton McIlwain, Vice Provost for Faculty Engagement and Development and Professor of Media, Culture, and Communication at NYU Steinhardt, spoke of the early internet where anti-capitalist, people-first communities made by and for Black internet users thrived.
He compared this to the current state of social media, where social networks suppress content from creators of color and companies target people of color with predative advertisements for things like payday loans.
Media, Inequality & Change Center Co-Director and Presidential Associate Professor Sarah J. Jackson — whose book #HashtagActivism: Networks of Race and Gender Justice detailed the rise of social activism on Twitter — proclaimed that the platform was dead long before Elon Musk took over.
"Twitter was becoming a space that was increasingly about broadcasting messages as opposed to having communal and conversational messages," she said. "It was already decreasing in its potential for its use in the types of organizing and social change that I had studied."
Jackson spoke of Twitter's decision to revoke access to its API, and pointed out that while this is a blow to scholars who rely on Twitter data for their research, it is a good reminder to look for new platforms to study.
The Commercialization of the Internet
As the day came to a close, panelists discussed niche social platforms, third-party sellers on Amazon, and tech monopolies.
Matthew Crain, Associate Professor of Media and Communication at Miami University, detailed how surveillance advertising took over the web and citizens became the product shilled online. 
Three main lessons should be taken from this history, Crain said. One: "We need a movement." Two: "Breaking monopoly power is necessary." And three: "Whatever comes next, we need to be extremely wary of advertising."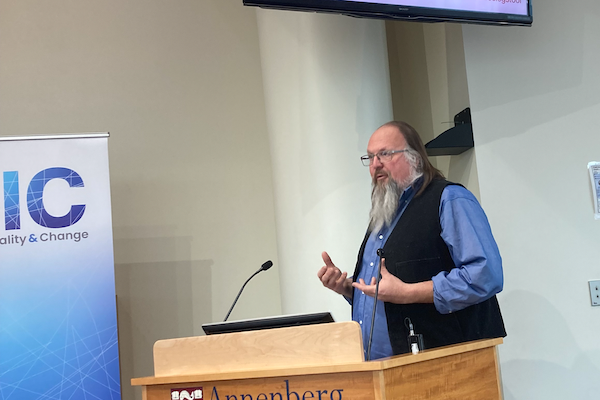 Moira Weigel, Assistant Professor of Communication Studies at Northeastern University, examined a very specific sort of internet commercialization: third-party sellers on Amazon.
If citizens really want to understand and govern the internet giant, then they need to understand the third-party sellers that use the platform, she said, because around 60% of purchases on the site are through a third party.
"The fees that these small businesses pay to use Amazon have consistently been one of the highest revenue sources for the company," Weigel told the audience.
Ethan Zuckerman, Associate Professor of Public Policy, Communication and Information at the University of Massachusetts at Amherst, shared his work studying and building VSOPs — very small online platforms — with his lab: The Initiative for Digital Public Infrastructure.
Zuckerman's team is building algorithms meant to burst filter bubbles, methods for creating affordable online platforms, and hoping to create public databases of content moderation tools, all to make the web much more democratic.
Ramesh Srinivasan, Professor of Information Studies and Media Arts at UCLA, provided a meditation on the day's talks, and called for hope in the face of an uncertain future. In order to build a new, better, more equitable internet, we have to believe other worlds are possible, he said.
The Technologies of all Dead Generations 
The event concluded with a keynote talk by Ben Tarnoff, co-founder of Logic Magazine.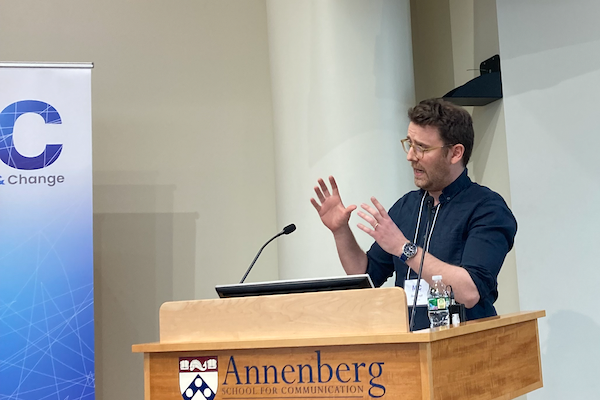 Tarnoff pondered the question: "How do we take a technological inheritance that has been engineered for war-making, empire, racial domination, and capital accumulation, and fashion it into something that sustains solidarity and self-determination?"
You can read Tarnoff's talk in full on his website or watch the recording on YouTube.
Democratizing the Internet: Platforms, Pipes, Possibilities was organized by MIC Center Postdoctoral Fellow David Elliot Berman, MIC Center Associate Director Briar Smith, and MIC Center Co-Director and C. Edwin Baker Professor of Media Policy and Political Economy Victor Pickard. Moderators included Penn State doctoral student Sydney Forde as well as Annenberg Doctoral Candidates Lauren Bridges and Sanjay Jolly. 
Watch the symposium in full on YouTube.