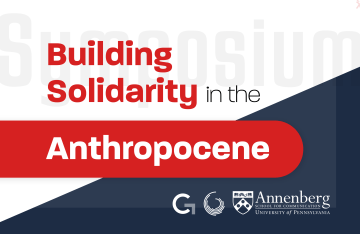 CARGC-CDCS Symposium - Environmental Racism and Infrastructure Injustice in the United States and Beyond
April 7, 2022
12:30pm-2:00pm
Audience
Open to the Public
The opening roundtable in the month-long CARGC-CDCS Symposium examines environmental racism and infrastructure injustice in the U.S. and around the world.
This is the first of four roundtables, to be held every Thursday in April, of the month-long CARGC-CDCS Symposium, "Building Solidarity in the Anthropocene: Approaches to Infrastructure, Environment, and Global Communication." The Symposium will conclude with a filmmaker discussion on Friday, April 29. In addition, each week of April, we will provide access to a different documentary film which explores relationships among technology, infrastructure, environment. Please see below for the detailed Symposium description.
Download the Symposium program
About Roundtable One
"Environmental Racism and Infrastructure Injustice in the United States and Beyond"
Cities across the United States have been built and renovated over time in ways that directly and indirectly harm communities of color. For example, the placement of toxic waste centers, highways, and factories in predominantly Black neighborhoods has led to high rates of pollution, asthma, and unsafe drinking water. One example is Hoboken, NJ, where the decision to locate the public housing community in the most flood prone area of the city actually drew Black and Latinx low-income residents into a neighborhood where they would be left vulnerable to the economic and health consequences of climate change. This roundtable will bring together scholars and practitioners to share their insights and work on environmental racism and infrastructure injustice in cities in the U.S. and around the world. 
The first roundtable of the month-long CARGC-CDCS Symposium will open with welcome remarks by John Jackson, Richard Perry University Professor and Walter H. Annenberg Dean at the Annenberg School for Communication, and Guobin Yang, Grace Lee Boggs Professor of Communication and Sociology, Director at the Center on Digital Culture and Society and Interim Director at the Center for Advanced Research in Global Communication.
Panelists
Sindhu Thirumalaisamy is an artist and award-winning filmmaker whose work centers (un)common spaces and the possibilities for speech and action with/in them. She has worked in relation to hospitals, parks, streets, kitchens, temples, mosques, and lakes—spaces that hold potential for collective resistance and care. We also have the honor to screen her film The Lake and The Lake (2019) during our Symposium (April 7-10) and have her join our last roundtable on April 29 for a closing discussion with other filmmakers.
Daniel Armanios is the BT Professor and Chair of Major Programme Management at the Saïd Business School and a Professorial Fellow of St. Anne's College, both at the University of Oxford. Daniel's research integrates civil engineering and organizational theory. His work centers around physical infrastructure systems (namely bridges and some new work on broadband). During this roundtable, he will also discuss these threads in relation to his experiences in Pittsburgh.
Lance Freeman is a planner and sociologist and the Penn Integrates Knowledge (PIK) Professor of City and Regional Planning and Sociology at the University of Pennsylvania. Lance's work explores how urban neighborhoods change and evolve over time. His studies also illuminate how social media and other new technologies can be used as tools to study neighborhoods. Lance has been always dedicated to building knowledge infrastructure for planning and building better and more equitable places.
Nikhil Anand is an environmental anthropologist and Associate Professor of Anthropology at the University of Pennsylvania. Nikhil's research focuses on urban spaces, infrastructure, state power, and climate change. His book, Hydraulic City: Water and the Infrastructures of Politics in Mumbai (2017), examines the everyday ways in which cities and citizens are made through everyday management of water infrastructure. His current book project, Urban Seas, tries to decenter the grounds of urban planning by drawing attention to the ways in which climate-changed seas are remaking coasting cities today.
Our Chair
Kelly Diaz is a CDCS doctoral fellow and a doctoral candidate at the Annenberg School for Communication at the University of Pennsylvania, who works on social justice storytelling and the intersection between entertainment and activism. In particular, Kelly is passionate about accessibility to information among marginalized communities. Before joining Annenberg, she completed an AmeriCorps VISTA Year serving the public housing community in Hoboken, New Jersey.
About the Series
"Building Solidarity in the Anthropocene: Approaches to Infrastructure, Environment, and Global Communication"
Oceans rise. Trees burn. Shales fracture. Mines pollute. Viruses spread. Cities under lockdown. Infrastructures attack. Ecologies go feral…. We are in an era where infrastructures and environments are ever closely intersected on a global scale. How to make sense of the different but intersecting logics, networks, and poetics of infrastructures and environments? What critical roles do media and mediation play in shaping the anthropocene, both in the Global South and North? At the 2022 CARGC-CDCS Spring Symposium, we invite speakers to discuss how they address these important questions in their respective works.  
 
The 2022 Symposium will bring together leading scholars, artists, activists, journalists, and other experts to collaboratively envision our shared futures. Speakers will share their research and multi-modal works from wide-ranging and multidisciplinary perspectives. The main topics of discussion include resource extraction, decolonial practices, politics of environment, urban infrastructure, environmental racism, trans-oceanic supply chains, and communication infrastructures amidst global health emergencies. We envision each roundtable as a generative space for open dialogues and critical reflections. Our month-long Symposium will also feature filmmakers and their works which explore the relationships among technology, infrastructure, environment, and affected communities. Their films will be made available for online screening (access with codes) during the Symposium month. Our Symposium month will conclude with a cross-panel discussion about this year's overarching themes and our featured films.
Disclaimer: This event may be photographed and/or video recorded for archival, educational, and related promotional purposes. We also may share these video recordings through Annenberg's website or related platforms. Certain events may also be livestreamed. By attending or participating in this event, you are giving your consent to be photographed and/or video recorded and you are waiving any and all claims regarding the use of your image by the Annenberg School for Communication. The Annenberg School for Communication, at its discretion, may provide a copy of the photos/footage upon written request.