Awards and Honors from ICA's 2022 Conference in Paris
Nine faculty, students, and staff were honored with awards while an additional five alumni were named ICA Fellows.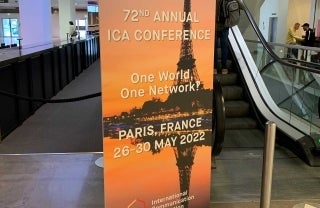 Several dozen Annenberg faculty, students, and staff recently traveled to Paris for the 72nd annual International Communication Association Conference, held May 26-30 at the Hyatt Regency Paris Etoile.
More than 70 Annenberg faculty and students made presentations in person or virtually online, either at the conference or at one of its many preconferences. 
At the awards ceremony held on Saturday evening, Professor Emeritus Robert C. Hornik received the Steven H. Chaffee Career Achievement Award, one of the six major awards given by ICA.
Hornik, the Wilbur Schramm Professor Emeritus of Communication and Health Policy at the Annenberg School, is an expert in evaluating health-focused mass media campaigns around the world. He has been a principal investigator for more than $40 million in NIH and USAID grant funding. Read more about Hornik's award and watch a short video of him receiving it. 
During the ceremony, five Annenberg alumni also were inducted as ICA Fellows, which recognizes scholarly contributions to the broad field of Communication. Those receiving the honor in 2022 include Lee Humphreys (Ph.D. '07), Isabel Molina-Guzmán (Ph.D. '00), Jeff Niederdeppe (Ph.D '06), Jenny Stromer-Galley (Ph.D. '02), and Yariv Tsfati (Ph.D. '02).
Paper awards at ICA 2022
| Recipient | Award |
| --- | --- |
| Shengchun Huang and Tian Yang | Top student paper award in Computational Methods for "Trap of Entertainment: Recommendation Algorithms Drifted Users Away from News on YouTube" |
| Thandi Lyew, Asia Vincent, and David Lydon-Staley | Top paper award in Communication Science and Biology for "Adolescents' curiosity for tobacco-related trivia aids memory of tobacco-related information" |
| Staci Jones | Top paper award in Ethnicity and Race in Communication for "Clearwater Drive: And Other Essays From the Kitchen Scholar" |
| Chloe Ahn | Top student paper award in Political Communication for "Perceptions of Political Polarization and Self-Censorship: Does Perceived Polarization Discourage People from Speaking their Minds?" |
| Muira McCammon | Top student paper award in Communication History for "What Records Remain: Public-Sector Data Infrastructures and Traces of Tweets that Became Trash" |